As digital technology advances, it comes with its share of disadvantages. Especially in the digital world, there are creepy crawlers waiting to steal your info, infiltrate your system for ransomware, infect it with malware to gather info, and so on.
But tech geniuses are not sitting back and watching this all happen. They are constantly updating and releasing new antimalware programs and updates. Whenever there is a new type of malware in the scene, you will get an update that will block it from your antimalware program.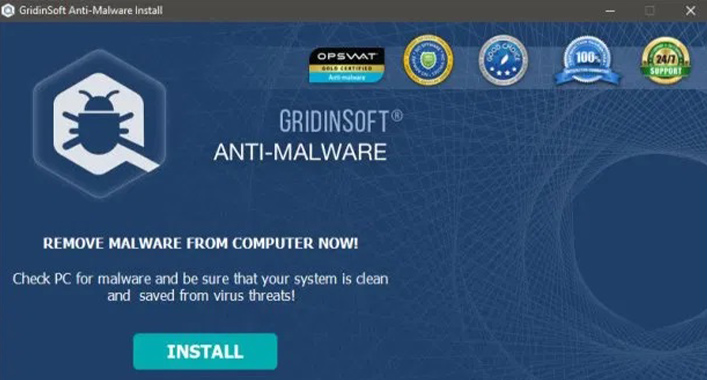 If you are wondering if to go with the traditional anti-virus or anti-malware or go with Gridinsoft, you are at the right place.
Today we are going to talk about the antimalware that came to the market claiming itself "The Trojan Killer". But are they that good, we are going to find out in this Gridinsoft Antimalware review.
Gridinsoft Antimalware Review: Worth Your Money and Security?
There is no perfect antimalware software out there. Most of them are RAM-hungry, pc slowing agents that get the job done at the end of the day.
But few of them shine with their true intention and can outperform others from the hundreds of antivirus and antimalware software.
Is Gridinsoft in that special list? We are going to find out a hand to hand after testing it.
Features, Outlook, and Functionality
Features individual scans or partition, hard disk, folder, and even plugged-in removable devices.
Appealing and easy-to-use interface.
The outlook and features of the program are intriguing. The ocean blue color interface, along with different buttons for different functions makes it look like a dashboard out of a game.
It has different types of the scanning system. From partition-wise scan to an individual folder, to systematic scan to removable devices scan, everything is there within just a tap.
You don't have to go under any of the menus to do these simple tasks. Which is a plus for Gridinsoft.
How Well Does It Work?
As they say, it is what is inside that matters. Gridinsoft has a more laid-back approach than any other antimalware program.
While it can be a good thing if you are sure about the malware being software and don't want it to get deleted by aggressive scans and protection, Gridinsoft does not execute its system until you open the program or attempt to open it.
In the meanwhile, if you leave it on your pc, it will stay like that forever. Which is a bit on the downside.
Lack of Testing in Labs
The self-claimed to be the Trojan Killer is a bit slow in the race of testing too. They don't have any footprint in the official testing labs or any sort of score. Making it a bit suspicious as every program like this goes through the testing labs.
Whatever the reasons are, it is a big red flag for a lot of people. If you are one of them who likes everything verified, then you should stay away from Gridinsoft.
Malware Detection Halt From the Start
All of the anti-malware detection programs come equipped with it auto protection turned on. Surprisingly when you install Gridinsoft, you will find it turned off.
It is like bringing a sleeping guard to protect your home. You ask him to look after your house every time it falls asleep, manually.
Is Gridinsoft Better Than Windows Defender?
While putting side to side with the lowest ranking of them all, our good old Windows Defender, Gridinsoft somehow didn't perform as they claimed it would.
You can download malware and it will let it get into your pc. Once the download is complete, you can scan them, and only then it will detect the malware. Thank goodness!
Even Windows Defender finds malicious sites and blocks them on its own. So it is a huge downside if you are a big download buff.
Pros
Good looking interface.
Has a dedicated scan switch for every function.
Can neutralize malware once found.
Cons
Not even good as a windows defender.
Requires manual activation for protection upon installation.
Eats up a lot of RAM, but does very little.
Expensive regarding its service.
Should You Get It?
If you want our suggestion, then we would tell you to look elsewhere. Especially if you are paying for an antimalware program, then definitely look for the top-ranking ones. Which costs almost the same but works more efficiently.
Frequently Asked Questions
Is GridinSoft Anti-Malware legitimate?
Not really. Gridinsoft may look great on its interface, but when it comes to its main duty, it fails. Even Windows Defender outperforms by a lot in tracing malware.
Can I trust Malwarebytes anti-malware?
Yes. If you are looking for a lightweight, less RAM-consuming efficient antimalware program, then you can go for Malwarebytes. It has some neat features along with the traditional scanning system.
What is the best anti-malware or antivirus?
If you are looking for the best antimalware or antivirus agent, then Bitdefender Antivirus Plus would be the overall best for both MAC and Windows operating systems. For premium features, Trend Micro Antivirus and Securtiy are the best. And if you are looking for regular scans, then nothing beats Malwarebytes.
What is the best free anti-malware?
Though free antimalware programs lack features, they give you the needed security. The top-ranking best free antimalware agents are Bitdefender Antivirus, Avira Free Security Suite, and AVG Antivirus Free.
Conclusion
When it comes to computer security, you should prioritize it like your bank account. It not only contains your documents and work but also your precious memories and backups. So it should have top-notch security. Gridinsoft sadly doesn't come close to any of the mid-ranking antimalware.