Is Advanced SystemCare Malware? | Windows Optimization Tool
Developed by IObit technologies, Advanced SystemCare is a cleanup and optimization tool for Windows OS. It is pretty good at optimizing and cleaning up the system. In recent days, some user has accused it of being a type of malware in different forums and discussions. Through this article, we will discuss this accusation, whether it is true or not. So, let's start the discussion.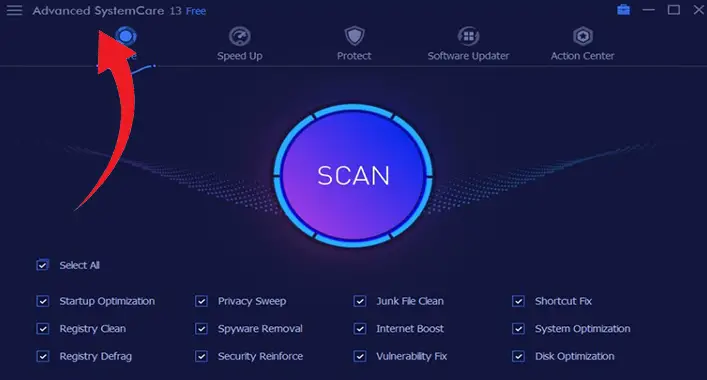 Is Advanced SystemCare Safe?
Alongside Advanced SystemCare, IObit technologies have some other applications and tools that are widely popular among the user. Malware Fighter, Driver Booster, and Uninstaller are some of them. As you know, the safety of a tool depends on some measures like,
1. Risk of Personal Data
2. Program Features
3. Conflicting Reviews
Among these measures, Advanced SystemCare is not a threat to personal data, and it has 100% working features. Though there is some negative review available in some forums Which were given while Malwarebytes anti-malware tool detected it as a PUP. Later, these accusations are proved to be wrong. Moreover, anti-malware websites like VirusTotal identified it as a safe program to use on a computer device. So, Advanced SystemCare is completely safe to use on a device, and you can use it without any hesitation.
Is Advanced SystemCare a Spyware?
No, Advanced SystemCare is not a Spyware or other kind of malicious code that can cause harm to your device. Though one of the most advanced-leveled anti-malware tools, Malwarebytes identified it as PUP (Potential Unwanted Program). This is a false positive because Advanced SystemCare can also detect and remove threats from a device, like the Malwarebytes anti-malware tool. But anti-malware website VirusTotal has identified it as a safe to use and not a type of malicious threat to a computer device.
Should I Need to Uninstall Advanced SystemCare?
From the above discussion, you already know that Advanced SystemCare is not a type of malware or other types of malicious threats to a device. Still, you can uninstall this, when you are using multiple security tools on your device. Because multiple security tools can cause software conflict on a device system.
Should you need to remove Advanced SystemCare? It's up to you. If you are using Advanced SystemCare often to clean up and optimize your device system, you shouldn't need to remove it from your device. It will be better to uninstall or remove it from your system if it is not necessary for your device system.
How to Uninstall Advanced SystemCare?
Uninstalling or removing the Advanced SystemCare from your system is not a hard nut to crack. Instead, it is simple and easy if you follow some steps. These below-described steps can help you to do so;
Step-1;
Press the Windows key + r on the device keyboard to open the Run Dialog Box, type appwiz.cpl, and press enter to open the Program and Feature window of the Control Panel.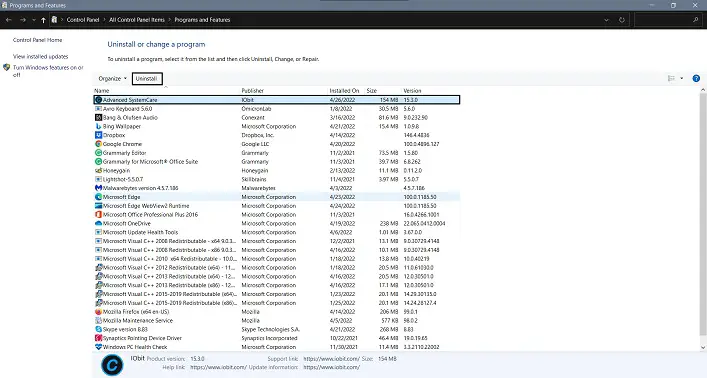 Step-2;
Thereafter, locate and select the Advanced SystemCare from the program list and click on uninstall to start the uninstallation process. Afterward, follow the on-screen prompts to complete the uninstallation or removal process.
Frequently Asked Questions (FAQs)
How Do I Turn Off Advanced SystemCare Performance Monitor?
To turn off the performance monitor, you need to Right-Click on ASC Tray Icon and navigate through Quick Settings > All Settings > General Settings, deselect 'Enable Performance Monitor'. It will disable the performance monitor of the Advanced SystemCare tool.
Is IObit a Malware?
No, IObit is not malware or malicious for a device. Instead, it offers some great tools to keep your device protected against the most advanced malicious threat of your device.
Should I Need to Remove All the PUPs?
Yes, it is better to remove all the PUPs and PUAs from the device to reduce the chance of being infected. But before removing it, it is better to check if it is a PUP or PUA.
Conclusion
Now, you have known whether the Advanced SystemCare is malware or not. To avoid false positives, it is better to check and review the file or application status from multiple anti-malware resources (e.g. VirusTotal). That's all for today, have a great day.