Can You Send a Text Anonymously | How to Text Without Showing Your Number
You can send a text anonymously by making use of different email templates, online websites, or smartphone apps. These options are readily available, simple, and less time-consuming.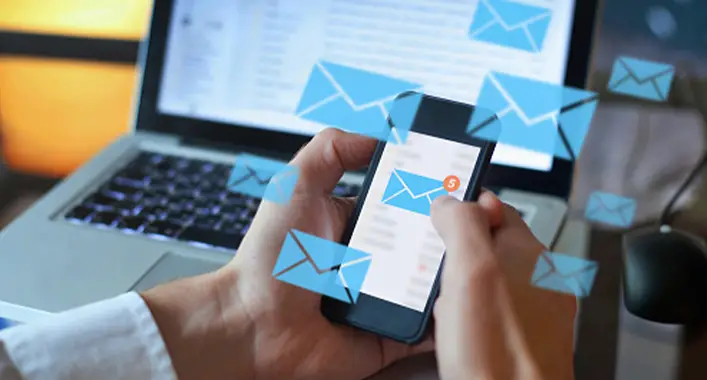 As communication expands, the need for maintaining privacy sometimes becomes essential as more people keep sending information directly to you every day. Texting without giving up your personal information is certainly possible. This article will discuss some definitive ways to do that.
Can You Send a Text Anonymously Through Email and Website
The concern for online privacy has risen sharply as society becomes more dependent on technology. Both your computer and your smartphone are equally at risk. When you text someone, they automatically know your cell phone number, which poses a security issue if you don't know them well.
You might need to text someone while not wanting your phone number to appear on the other end for a variety of reasons. This article offers multiple options for sending texts in both an anonymous and semi-anonymous manner.
How Do Send Anonymous Texts by Email
The majority of significant mobile phone carriers permit sending texts to their users via email. A useful suggestion here is that you can use a disposable email account if you wish to send entirely private texts. 
To make this work, you must be aware of the recipient's carrier. Utilizing one of the below templates, dial the target phone number to which you want to send your message.
1. AT&T
SMS is kind of a text-only message. The template here is: 10digitphonenumber@txt.att.net
Whereas, MMS is a message that includes multimedia like pictures, audio, or video. The template to use here is: 10digitphonenumber@mms.att.net
2. Metro PCS
10digitphonenumber@mymetropcs.com for SMS/MMS.
3. Verizon Wireless
SMS: 10digitphonenumber@vtext.com
MMS: 10digitphonenumber@vzwpix.com
4. Sprint
SMS: 10digitphonenumber@messaging.sprintpcs.com
MMS: 10digitphonenumber@pm.sprint.com
5. T-Mobile
SMS/MMS: 10digitphonenumber@tmomail.net
How Do Sending an Anonymous Text Through Websites
There are a few websites that allow you to send anonymous texts in case you do not prefer email or apps. Most of them are trustworthy but have limits on how many texts you can send per day.
After reviewing a couple of them, we can conclude that they function quite well. The websites all have a similar basic design and set of features. Moreover, the messages can be sent in under two minutes. However, it is vital to keep in mind that message delivery is not assured because these are free to use.
1. TxtEmNow
You may send anonymous SMS to any North American or foreign phone using the handy website called TxtEmNow. The choices to send a message can be found by scrolling through the advertisements. 
The good news is that you may use this website without having to register or provide any personal information, which will help you avoid those unwanted advertising experiences.
2. Text 'em
Text 'em is extremely comparable, even though the website appears to be from the 1990s. Whatever the case, there is no doubt that the website is functional. 
All you have to do is to enter the phone number, carrier, and then the message. After submitting the Captcha and agreeing to the ToS, click "Send Message".
3. SendAnonymousSMS
SendAnonymousSMS delivers on its promise to send an anonymous message to virtually any recipient in any nation. The website is user-friendly and neat. Firstly, you have to enter the sender number, then the country and delivery number, and lastly, the message. Finally, send the SMS after entering the Captcha code.
4. TextForFree.net
Another extremely inconspicuous website that does the job is TextForFree.net. This website appears to only function in the United States. However, as long as you're using one of the authorized carriers, this website does convey the message. 
Choose the appropriate phone provider from the list after entering the number, message header, and message. Again, delivery takes some time, but the message eventually gets sent when you click "Send Free Text Message" at the bottom.
How Do Send Anonymous Texts With a Smartphone App
There are numerous apps available on both Google Play and the iOS App Store that will allow you to send anonymous texts. Text Me, Text Free, TextNow, and textPlus are a few of them. 
Ordinarily, the program will provide you with a number from which you can send and receive texts. But you might want to check out Burner if you truly like sending anonymous texts. You can use as many disposable numbers as you would like with this software.
Frequently Asked Questions (FAQs)
How Can I Text Without Showing My Number?
Fortunately, there are several ways to call or text anonymously. For starters, you have to change your phone's settings. Navigate to the Settings of your phone app on Android-powered devices. Once there, you must choose "Hide my Number" from the Caller ID drop-down box under "Additional Settings."
How Do I Hide My Number When Texting on iPhone?
Hiding the number when texting on iPhone is certainly possible. Simply go to Settings on the Home screen to hide your phone number when calling and messaging. Go to Settings > Phone > Show My Caller ID and turn off the setting to hide your number when making outgoing calls.
Can You Send a Text Anonymously on your iPhone?
It is possible to send an anonymous SMS message right from your mailbox. Just create an email account and you're ready to go. To ensure that the SMS remains anonymous, it is of course free of any elements that can compromise your privacy.
Conclusion
Anonymous texting is a good alternative to creating an anonymous Facebook account or using a private email service. The privacy protection offered by being able to text anonymously is little, but you never know when you might need it.