How to Exclude Advanced SystemCare in Malwarebytes? 2 Easy Methods
To assure you, Malwarebytes is one of the finest anti-malware programs available and offers the best protection for your computer system. Along with removing malware, it can also block certain items such as files, programs, and websites that seem a threat to it.
Many users across the world have faced a situation where Malwarebytes detect the Advanced SystemCare program as harmful or a threat including you. The most common assumption is being a utility program it has some features that can possibly cause harm to the operating system. 
Yet if you insist to continue using it, you can exclude it in Malwarebytes by ignoring it and so on. Don't worry! Read this post till the end and find out the procedure to exclude Advanced SystemCare in Malwarebytes.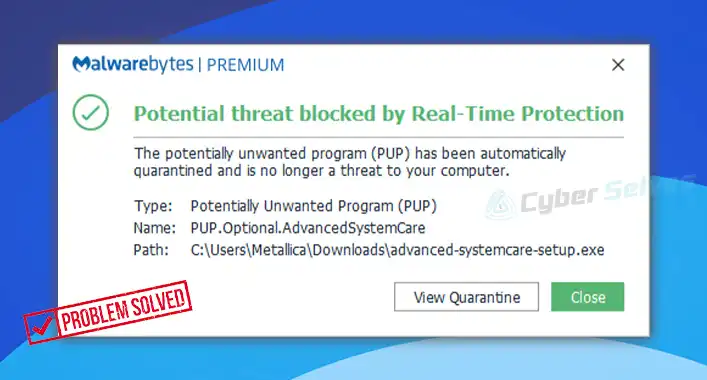 How Do I Exclude Advanced SystemCare in Malwarebytes 
There're two particular ways to exclude Advanced SystemCare from your Malwarebytes. Those are –
Ignore Advanced SystemCare for always
Add Advanced SystemCare to Allow List
You can try any of them or both. For a better result, apply both of them. So, without any more delay, let's get into them.
Method 1: Ignore Advanced SystemCare for Always
When Malwarebytes performs a scan and detects the Advanced SystemCare as PUP (Potentially Unwanted Programs), all you need to do is –
Step 1: In the detection list, uncheck the box for Advanced SystemCare and click on Next.
Step 2: After that, a prompt will appear asking if you want Advanced SystemCare to Ignore Once or Ignore Always. If you prefer to use it further for a long time then choose Ignore Always.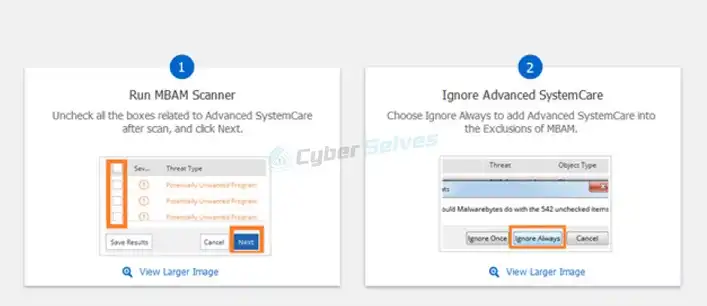 This way it won't get detected any more. 
Method 2: Add Advanced SystemCare to Allow List
For your information, when you add a previously detected item to the Allow List, it gets excluded from future scans and other protection circumstances. You're allowed to add four categories of exclusions including file or folder and this is the category where you should add the Advanced Systemcare folder. To do that –
Step 1: Click on the Detection History section.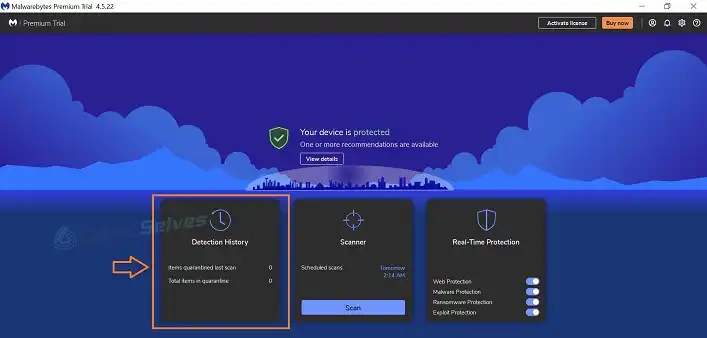 Step 2: Open the Allow List tab.
Step 3: Now, to add the folder, click on Add.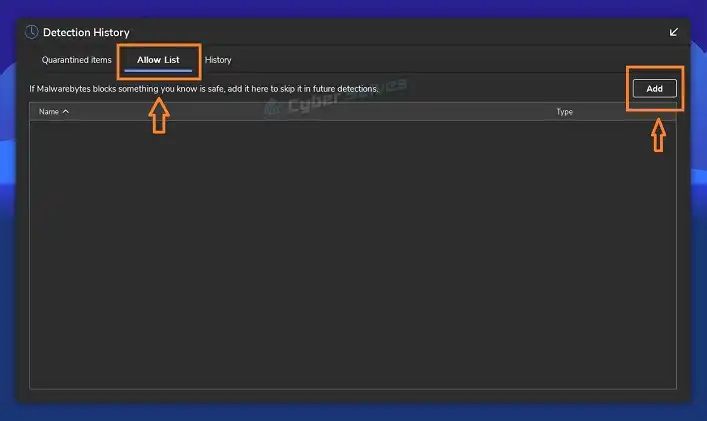 Step 4: Select the Allow a file or folder.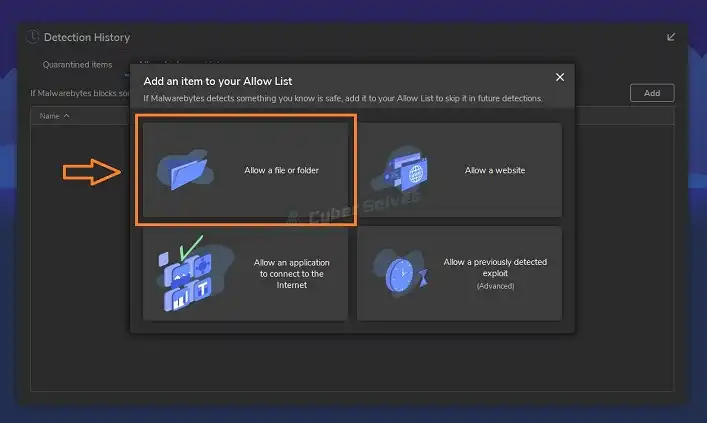 Step 5:  Ensure that Exclude from all detections is selected under Exclusion rules.
Step 6: Between the two selection options choose to Select a folder.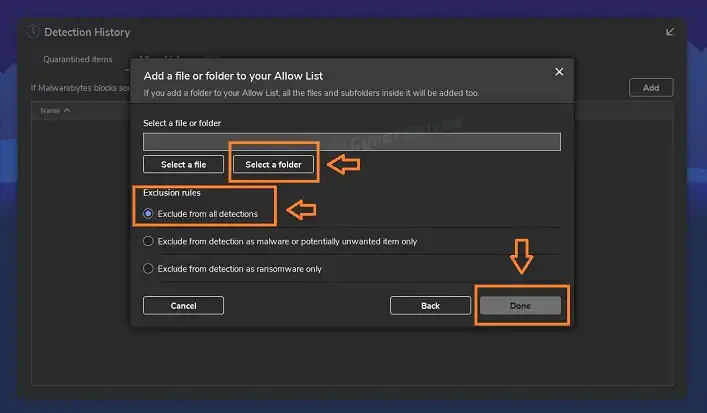 Step 7: Then navigate to the Advanced SystemCare folder and click on Select Folder after selecting it.
Step 8: Finally, click Done to confirm the folder as an exclusion.
From now, you don't have to worry about the trouble with Advanced SystemCare any longer.
Frequently Asked Questions (FAQs)
How can I whitelist a process in Malwarebytes?
You should start by launching the Malwarebytes Toolset. Then go to Settings in the Portable Scanner section and choose Edit Default Scan. After that, click on Custom Whitelist. Provide the name of the process that you want to whitelist (no need for file extension) and save the changes.
Is it safe to use Advanced SystemCare?
Yes, it is until you let it take any wrong step. As you know, Advanced SystemCare is capable of restoring slow-pacing computers by enhancing their performance. Therefore, it has to deal with some system processes that are highly delicate. So, if you don't let it make any mistakes, it's completely safe to use.
Is Malwarebytes a trusted antimalware?
The simplest answer is yes. Malwarebytes is still a trustworthy antimalware program. Its premium version offers you the best real-time protection for your system against all types of malware and online threats. It doesn't impede the system processes unless they're harmful and slow down your computer.
Conclusion
Lastly, it can be said that excluding Advanced SystemCare isn't so difficult. You can simply do that by following the two ways mentioned above. If you've further queries regarding this topic or any other questions, don't hesitate to knock us.