[Explored] Is Classic Shell a Virus?  
Classic Shell is a computer application designed to provide classic (older Windows version) user interface elements including Start Menu, Internet Explorer, File Explorer, etc along with other relevant Windows enhancements in order to use them on the latest Windows. Millions of users have used this application to get the classic appearance of Windows' older versions, especially those who missed the traditional Start Menu interface. 
Now back to the point, there's a rumor arising among many users that the Classic Shell is probably a virus. One of the notable reasons behind this is their antivirus software is detecting it as malware. So, is it really a virus? Or it's a false positive? The truth is Classic Shell isn't a virus and classifying it as a malware is false positive.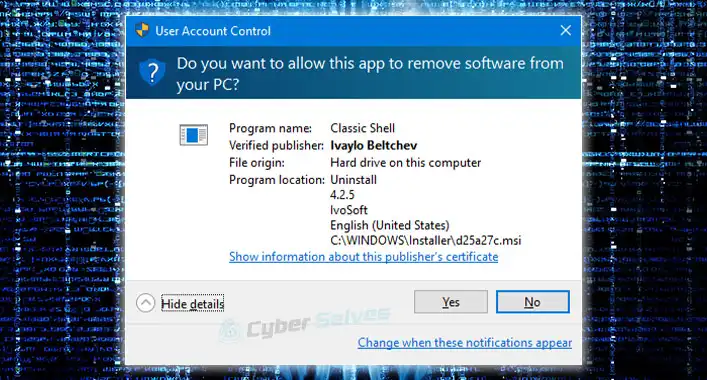 Is Classic Shell a Potential Threat?
No, Classic Shell is neither a virus nor any kind of potential threat. It's simply a third-party program dedicated to customizing the Windows user interface. It doesn't install any additional programs, doesn't do any automatic or unfavorable system modifications, and doesn't have any malicious code in its program. Moreover, it makes use of Microsoft-approved Windows APIs which are official and fully reliable. 
There are some antivirus programs that count Classic Shell as WS.Reputation.1. This is a specific kind of file detection that represents a program's lower reputation score. So it can be said that Classic Shell has a very low reputation score. This score is determined by analyzing Symantec's community users' data. For your information, Symantec is a software suite that offers extensive endpoint protection to the business.
Due to this lower score, those antiviruses think that Classic Shell can be a potential threat and that's why people don't give priority to this program. Also, there's a catch regarding this program. Unfortunately, this program isn't supported any longer by its developer and most likely this is another reason that makes Classic Shell a threat to the antiviruses. 
But the truth is this program has a pretty large user base worldwide who utilize Classic Shell since it was in a supported state, and most of the users claimed that there's nothing suspicious with Classic Shell and it works completely fine on the latest Windows. 
Frequently Asked Questions and Answers – FAQs
Is it okay to use Classic Shell on Windows 10?
Yes, it's completely okay to use Classic Shell on Windows 10. Not only on Windows 10 but any latest Windows version, you can effectively use this program without facing any security issues. 
How do I install Open/Classic Shell on my PC?
To do that, first of all, you need to download the setup file from its official website or any other trusted source according to your Windows version. Now, execute the setup file to start the installation process. Then click on Next at the welcome interface and after that check the License Agreement box. Finally, follow the simple onscreen instructions and finish the installation process.
How do I turn off Classic Explorer Shell?
As you may know, Classic Explorer is a shell extension and it can be easily turned off. All you need to do is navigate through Control Panel > Internet Options > Programs, select Manage Add-ons, and disable the add-ons related to Classic Explorer. That's it!
Conclusion
So far, we've shared all the necessary information that proves that Classic Shell isn't any virus and if you still have the setup file or the program installed on your PC, you can use it without being worried. Just make sure to add this program as an exclusion on your antivirus so that it won't bother you in the future. And if you have any confusion or further queries, you're welcome to mention that in the comment section.