What is Malware-gen Avast? How to Remove it?
The Malware-gen is a specific detection to detect malicious threats that aim to drop other malicious threats on the infected device. It is a kind of Trojan horse that allows other different malicious programs to get into the infected device. This version of malware is a constant threat to the security of a device. Hackers and cyber-criminals can get into a device by injecting other malware through Malware-gen. This could be a reason for data leaking and other destructive damage to the user.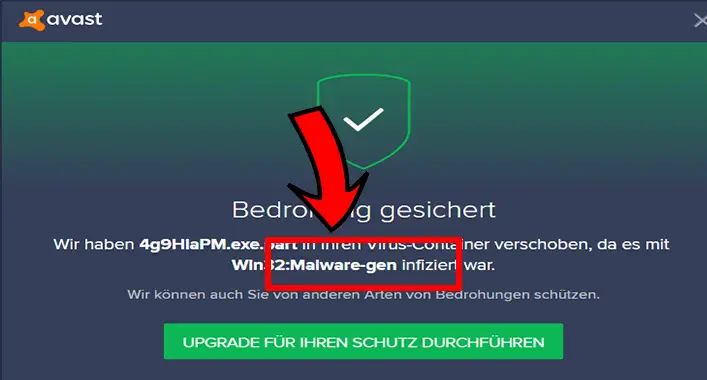 What is Malware-gen Avast?
The Malware-gen Avast is a generic term that is used by third-party antivirus programs to detect threats and malicious codes. To detect threats, most third-party antivirus/ anti-malware applications use a heuristic detection process, which is designed by Avast. Every antivirus program has a database of known malware and viruses. They use this database to find the matching threats while threat scanning. When the antivirus program fails to find the malware data or records on the database, it simply names it Win32:Malware-gen or Win64:Malware-gen. Therefore, the antivirus tool shows you a notification alert that says Win32:Malware-gen/ Windows64:Malware-gen threat found. You already know that you have to pay extra attention to your device if you notice this alert on your device. The Malware-gen could be dangerous for your device because it can be used as a tool to hijack your device by hackers or cyber-criminals.
What is Win32:Malware-gen?
The Win32:Malware-gen indicates that a 32-bit file of your Windows computer has got infected and needs immediate action. If you get this alert on your device, you need to take quick action and run a scan through the antivirus/ anti-malware program. This means one of your 32-bit files (including system) got infected and needs quick action, else it could damage your device.
What is Win64:Malware-gen?
Similar to Win32:Malware-gen, the Win64:Malware-gen indicates that one of the 64-bit files of your Windows device is infected. This type of alert is a common threat to a device. In this case, you need to remove the threat as soon as possible through the antivirus tool. Because this could be ransomware that hijacks and decrypts files to cause critical damage to your device.
The History of Malware-gen Avast
The history of Malware-gen starts with the heuristic detection process of viruses, malware, and other threats. The first case of Malware-gen was reported in the year 2011, after that it has evolved into a dangerous version of itself that is capable of installing malware without user permission. In the first reported case of Malware-gen, the user got infected through a hacked website. The website had injected the malicious code on the device to automatically redirect the user towards malicious websites. Though the Malware-gen can be noticeable, the injected malware is not noticeable or detectable. After the first reported case of Malware-gen, hackers and cyber-criminals have reformed it many times to cause damage to the user's devices.
Symptoms of Malware-gen Avast
When a device got infected by Malware-gen, very few common symptoms can be noticed. These common symptoms indicate that the device has already got infected by the Malware-gen, or it is at high risk of getting infected. Below-described symptoms are the common symptoms of Malware-gen;
Fake alerts & notifications indicates your device got infected by the spyware, and you need to remove it immediately (these alerts are not sent by the installed third-party antivirus tool).
Unusual pop-ups and advertisements on the device home screen that have no real connection with the search engine (Google, Bing, Yahoo, etc.).
Installation of unusual programs on the device without user permission or downloading unusual files that may damage the device.
Attacking Process of Malware-gen Avast
To get in a device, the Malware-gen can follow two ways, one is the direct way and another is the indirect way. In a direct way, the Malware-gen injects itself into a device system through phishing and spamming emails. Whilst in an indirect way, it gets into a device when the user surfs through a source (e.g., malicious websites) that contains harmful programs.
The Malware-gen could get into a device in some other ways, like installing pirated software, cracked or mod programs that are downloaded from unknown sites. This could also spread through torrent websites.
After getting into a device system, Malware-gen starts to encrypt the stored data of the host device. Also, it prevents the device program from working properly. If the Malware-gen is injected into the device to hijack the device, it can generate a ransom note for the user after encrypting the files of the device.
In certain areas, the Malware-gen relies on attractive pop-ups instead of generating ransom notes. These pop-ups may be a faulty warning message about unlicensed programs on the device and ask the user to pay ransom money. 
The Negative Effects of Malware-gen Avast
The impact of Malware-gen on an infected device could be too destructive. Whether it is injected for ransom or not, most of the impacts or effects of Malware-gen are negative. Here are the effects caused by Malware-gen on an infected device;
Download and install malicious codes and viruses to cause damage to the device.
Like other malware, Malware-gen also slows down the device and affects the device performance significantly.
Attractive, explicit, and faulty browser pop-ups and advertisement which has no connection with the search engines. These pop-ups and advertisements are delivered to execute click fraud.
Through Malware-gen, hackers and cyber-criminals can use the device as a spam tool or put the device into the botnet.
The cybercriminals and hackers could record and collect the computer activities like browser history, chats, keystrokes, and other confidential histories through the Malware-gen. It can even take screenshots, record the screens, even use the device webcam to collect information about the user.
Malware-gen could give away device access to hackers or cyber-criminals by creating and editing the registry entries. Cyber-criminals or hackers could steal the user's password, login credentials, bank account details, and other data without any knowledge of the user.
The browser may often redirect you to a malicious webpage that is unsafe to work. These web pages could install malicious codes or viruses on your device without any type of user permission.
After collecting the sensitive data through Malware-gen, the hacker or cyber-criminal could use them to hijack your device and force you to pay the ransom, or can use these data in illegal activities conducted by them (e.g., your bank account could be used to make fraudulent transactions, or they could steal your money through your bank account details).
Protection Against Malware-gen Avast?
It is not so tough to protect your device from Malware-gen Avast; you can protect your device from it by following some points. Here are the precautionary points that can ensure your device protection against Malware-gen Avast;
Always avoid visiting potentially dangerous websites (e.g., adult-themed, online gambling or betting). Use the official developer website or a secured website to download and install applications. Never use unknown P2P networks or unknown file sharing websites to share or download files on your device.
Ignore the pop-ups that doesn't have any connection with the search engines. These pop-ups could be pretty much eye-catching, attractive, fake updates and other security alerts. Clicking on them could open the gateway for the Malware-gen Avast or other Trojans to your device.
Always use the updated version of device firewall and use a third-party anti-virus tool that ensures real-time protections if necessary. 
You already know that the Malware-gen Avast could get into your device through unknown attachments of email. So, you should check the sender information before opening the attachments from unknown senders.
If you adhere to these above-described points, it will be pretty tough for Malware-gen Avast or other trojan horses to get into your system.
Removal of Malware-gen Avast
There is no official and effective way to remove the Malware-gen from a device. Also, it is proven that the Malware-gen may cause significant damage to your device as well as your personal information and data. So, it is necessary to take the necessary steps to remove the notorious Malware-gen as soon as possible whenever you detect its presence on your device. Here are some of the methods that have helped many users to remove the Malware-gen from their devices;
1. Clearing the Malware-gen with a Third-party application
This is the most comprehensive solution to remove the Malware-gen from an infected device. Third-party applications that are able to detect and remove malware, viruses, Trojans, rootkits, spyware, and other device threats are able to remove the Malware-gen from a device. Malwarebytes, Kaspersky, HitmanPro, Emsisoft, McAfee, AVG are some of the third-party applications that can effectively remove the Malware-gen from an infected device. You just need to download one of the third-party antivirus tools on your device and run a scan through them. After completing the scan, you just need to delete or remove the Malware-gen.
2. Reset the Browser to Default Settings
The damage of Malware-gen is limited to the internet browser and settings (though it makes the device work slower) and for this reason, it is possible to stop it by resetting the device browser settings. Although, some experts suggested reinstalling the browser. You can follow these below-described steps to reset the Chrome and Firefox browser;
Resetting the Chrome Browser
Step-1
Open Chrome, type chrome://settings/reset on the address bar, and hit enter to open the Reset & Clean up Settings of Chrome browser.
Step-2
From the Reset & Clean up Settings of Chrome, click on Restore settings to their original defaults and then click on Reset settings from the confirmation pop-up. Once you click on it, your Chrome browser settings will be reset to default.
Resetting the Firefox Browser
Step-1
Open the Mozilla Firefox browser, type about:support at the address bar and press enter to open the Troubleshooting Information of the browser.
Step-2
From the Troubleshooting Information page of Firefox, click on the Refresh Firefox button from the top-right corner. Thereafter, click on Refresh Firefox from the confirmation pop-up to reset the Mozilla Firefox browser.
Does Avast catch Malware?
Yes, Avast catches antivirus and malware from a device. Also, Avast can remove malware from an infected device and give your device protection from future infection. It uses a heuristic analysis method to detect and remove malicious code and viruses from a device. Moreover, Avast has a database of viruses and malware that are directly connected with the detection process. That's why Avast is a reliable option to remove Malware from a device.
Frequently Asked Questions (FAQs)
What is Ransomware?
Ransomware is a kind of malware that encrypts the data and information of the victim. Through this type of malware, the hackers or cyber-criminals force the victim to pay the ransom. The victim lost all his access to files, databases, and applications of the infected device system due to the ransomware.
What is 64-bit & 32-bit File?
The 64-bit and 32-bit is the way in which a processor handles information on a device. 32-bit file system handles a small amount of RAM (Random Access Memory) compared to the 64-bit file system. 
What is the Heuristic Method of Malware Detection?
The Heuristic method of malware detection is a method in which the virus and the malware get detected by examining code for the suspicious property of a device. It is one of the most advanced methods to detect and remove threats before causing harm to the device.
Aftermath
Here at this part, you have known enough about the Malware-gen and its removal process from a device. Apply the removal process right after the Malware-gen gets detected on your device, otherwise, it could be too late to handle the damage to the device caused by it. Well up to this today, never forget to scan your device regularly, have a great day.