[7 Methods] How Can You Protect Chrome When You Can't Protect Yourself?
Google Chrome is one of the most popular web browsers in the world. Billions of people use it every day to browse the web, play games, make online purchases, etc. Chrome most likely has more information about you than yourself. And with the increase in hackers and scammers, it is very important to keep Chrome protected so you can protect yourself.
There are ways to protect Chrome so your information doesn't get leaked to hackers. Setting up 2-step verification, using a VPN, and enabling HTTPS-first mode are some of the ways Chrome can be protected.
Here in this article, we will discuss more how you can protect Chrome so that you can protect yourself.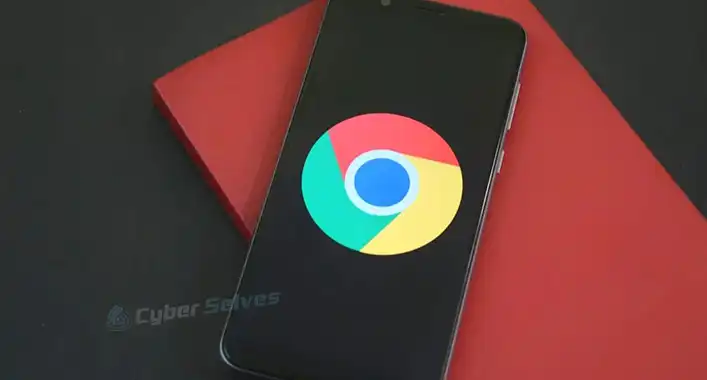 How You Can Protect Chrome to Protect Yourself
It is very important to keep Chrome protected at all times so that it cannot get hacked and leaks your information. Here are some of the ways you can protect Chrome –
Method 1: Set up a 2-Step Verification
You can set up two-step verification to add more security to your account. Here is the step-by-step guide –
1. Go to myaccount.google.com. [Link – https://myaccount.google.com/]
2. Now from the left pane, select Security.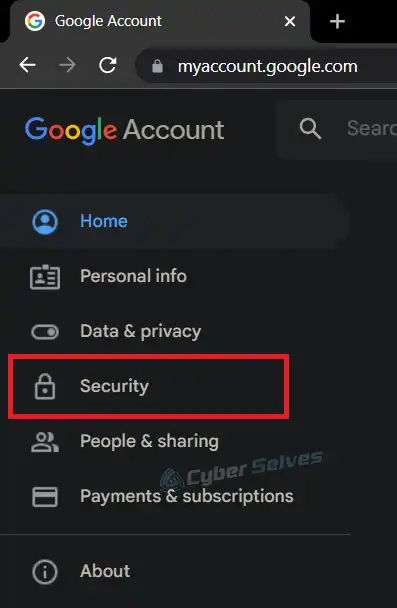 3. Navigate and select 2-step Verification.


4. Click on Get started.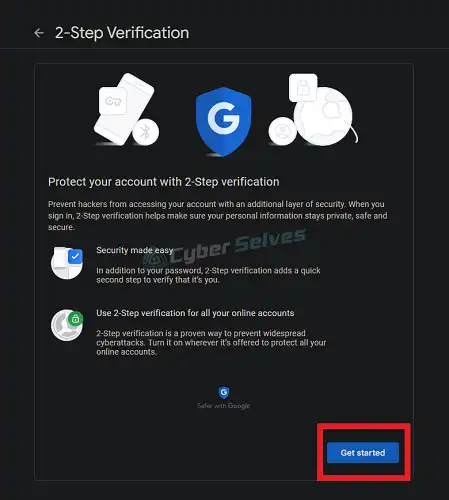 5. Follow on-screen instructions.
Now every time you log in to Google you will e prompted with this 2-step verification process.
Method 2: Be Careful of Extensions
Extensions are great for customizing Chrome to your liking. You can add some powerful features to your browser using extensions. But some can do more harm than good. They can slow down your PC, track you on whichever site you visit, and also hog down your bandwidth.
To know which extensions are legit and follow the policies of Google, look for the badge that Google has introduced. These badges are assigned to the extensions that follow Google's technical best practices.
You can delete any suspicious extension by following the steps below –
1. Open Chrome.
2. Click on the three vertical dots in the top right corner of the browser.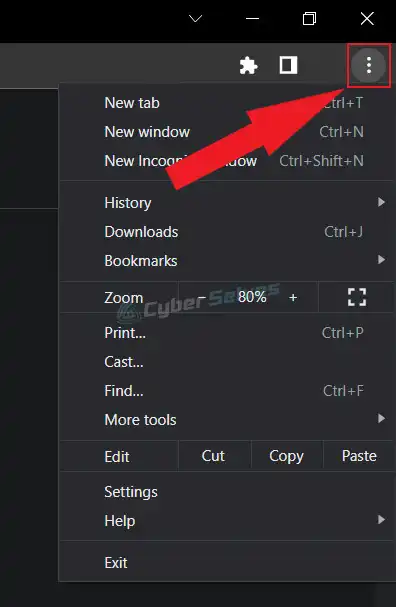 3. Click on More tools and then select Extensions.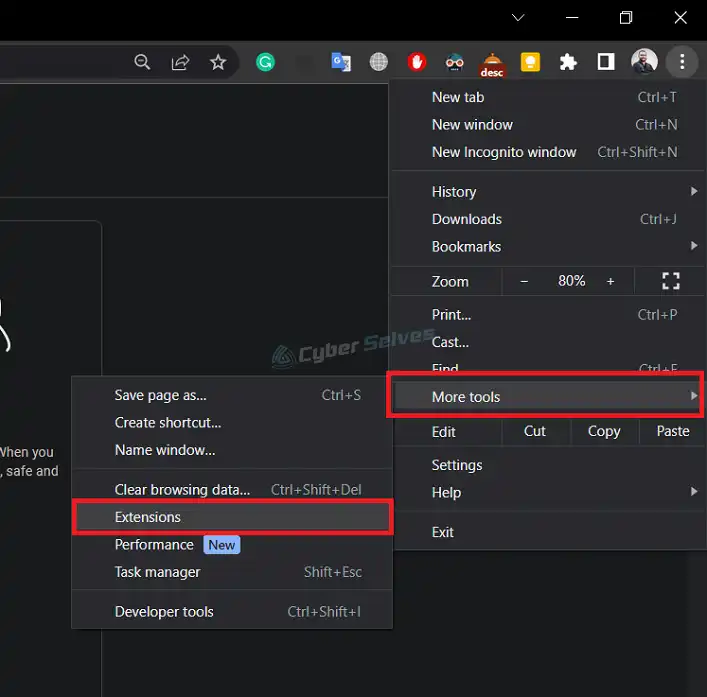 Here, you will see the list of extensions that you have installed. Click on Remove on the extensions you'd like to remove and then click on Remove again when prompted to confirm the action.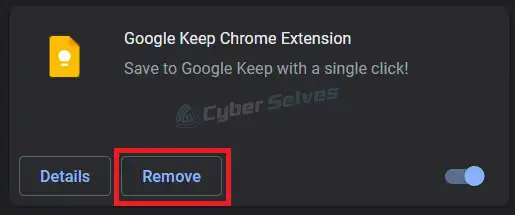 You can always install an extension back again if you feel safe enough.
Method 3: Run the Safety Check tool of Chrome
Chrome's safety check tool will automatically scan for leaked passwords and also available updates. Run a safety check by following the steps given below –
1. Open Chrome.
2. Click on the three vertical dots in the top right corner of the browser and select Settings.

3. Now, from the left pane, click on Privacy and Security.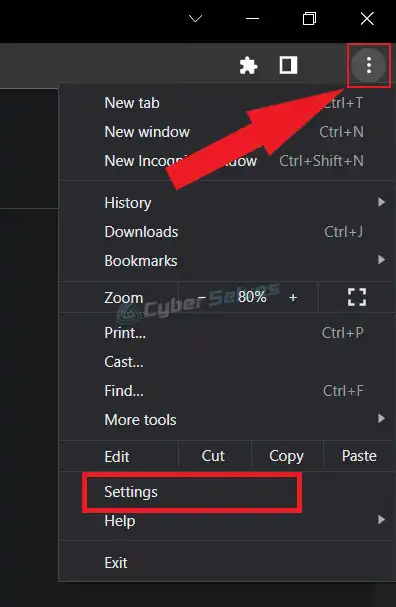 4. Here, under Safety check, click on Check now.

Select the items and if any issue is found, follow the on-screen commands.
Method 4: Use a VPN
A Virtual Private Network, aka VPN, is one the best ways to protect Chrome and yourself. It hides your IP and location and also encrypts your data. It is one of the greatest tools to fight against cyberattacks.
A VPN blocks two-way communication and the exchange of information. The IP address and location data come from the host server of the VPN provider. This means that the servers on the other end will learn nothing about you or your data.
Some of the best VPNs you can use are ExpressVPN, CyberGhost, PrivateVPN, NordVPN, and Surfshark. Every one of these will be a great addition to add more layers of protection in Chrome.
Method 5: Enable Chrome's Enhanced Protection
Just as the name suggests, enhanced protection will give Chrome and you more safety while browsing the internet. To enable enhanced protection, follow these steps –
1. Open Chrome.
2. Click on the three vertical dots in the top right corner of the browser.
3. Click on Settings.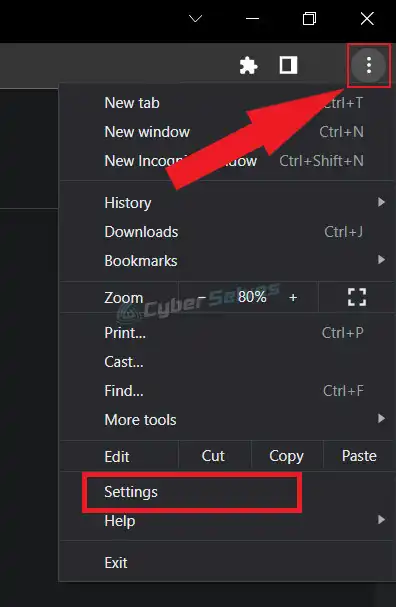 4. Click on Privacy and Security from the left pane, and then select Security.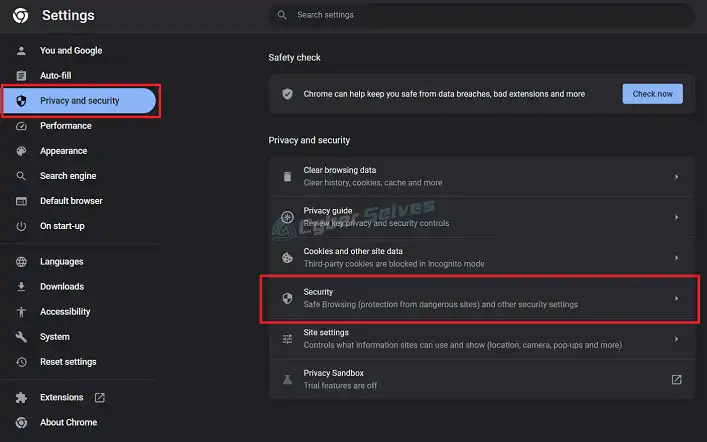 5. Under Safe browsing, select Enhanced Protection.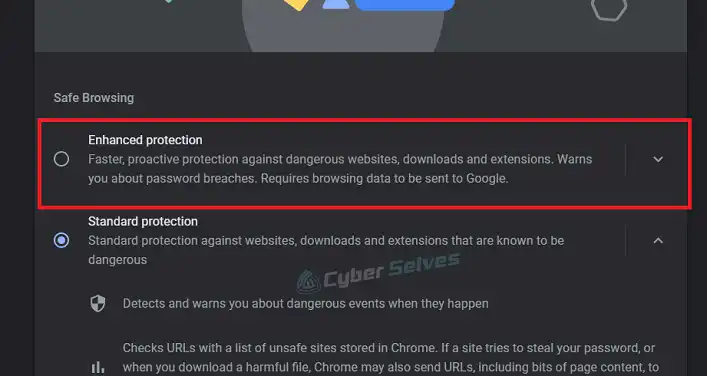 This will help you be more secure on the internet.
Method 6: Avoid Storing Passwords in Chrome
Storing passwords is very convenient for people who keep forgetting their passwords. But it is very risky to do so. Try and avoid storing passwords in Chrome as best as possible. You can use a third-party application to store passwords but the best way to remember passwords is to write them down on a piece of paper and keep it safe.
Method 7: Use the HTTPS-First Mode
HTTP is the core of the internet. You cannot load pages using hyperlinks without it. but there is an extra "S" in HTTP which stands for secure. Websites that do not use HTTPS are not secure and will try and harm you in some way.
To avoid getting baited into HTTP websites, you can enable the HTTPS-first mode. This will load every website with HTTPS and give a warning if it doesn't have the "S" in it. Follow the steps below –
1. Open Chrome.
2. Click on the three vertical dots in the top right corner of the browser.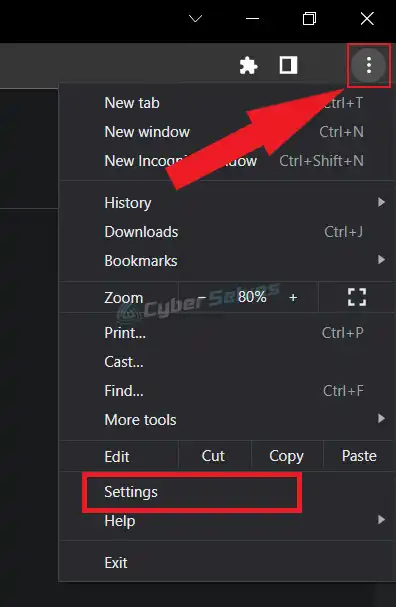 3. Navigate to Settings > Privacy and Security > Security.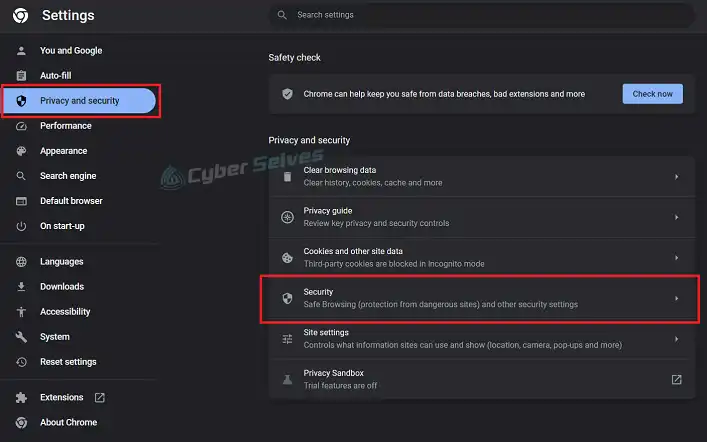 4. Under the Advanced section, click on the button labeled Always use secure connections.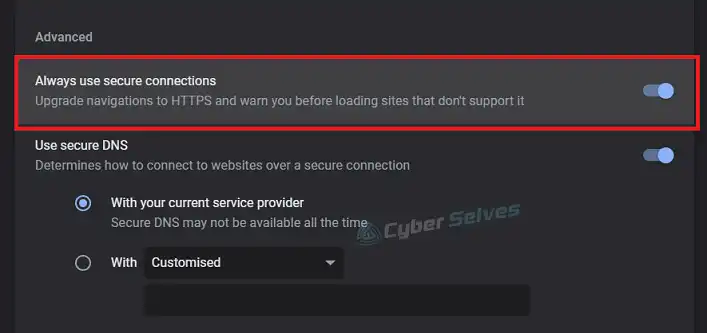 This will enable the HTTPS-first mode and now you can browse safely without worrying.
Frequently Asked Questions (FAQs)
Can Chrome be hacked?
Yes, hackers can hack and gain access to your information through Chrome if you do not take the necessary steps to prevent it.
Does incognito mode make me invisible from hackers?
No, incognito does not make you invisible. In incognito mode, none of your browsing history, passwords, or even cookies are saved. But this doesn't hide the activity on the websites you visit. You can still be tracked and your data can be hacked.
Conclusion
Making Chrome more secure will in turn protect you from cyber-attacks. So, it is important to take the necessary measures and keep Chrome under protection at all times. We hope we were able to help you protect Chrome which will help you be more protected on the internet. If you need further assistance, please do not hesitate to contact us in the comments section. Thank you.