Is BonziBuddy Malware? | How Do I Know?
At the beginning of this millennium, there weren't any proper security tools. At that time, computer users were familiar with a purple Ape named BonziBuddy. That purple Ape could talk, tell jokes, sing, and sometimes can annoy you. What was BonziBuddy? A malware or a pretty little friendly purple Ape? In this article, we will be discussing that friendly purple Ape, BonziBuddy. So, let's start the discussion;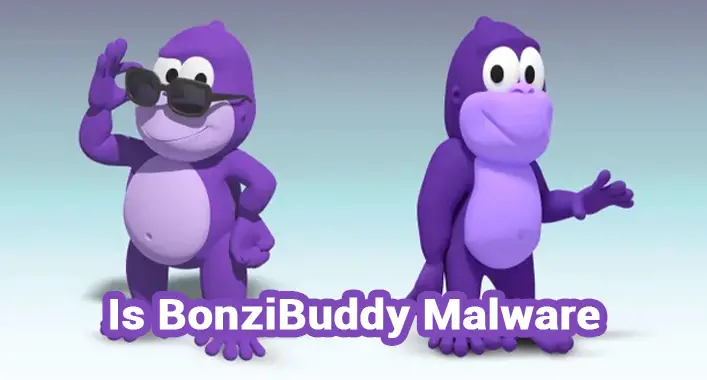 Is BonziBuddy Malware?
Developed by Bonzi Software, BonziBuddy was a piece of internet spyware or adware masquerading as a virtual assistant. Behind that purple-colored friendly Ape, Bonzi software was collecting private information from the users. Also, it was bombarding the user with adware that could add profit to the Bonzi software. It is flagged as the friendliest malware.
How did BonziBuddy Worked?
As you know, BonziBuddy had a huge popularity among the user and many users had downloaded it of their own will. Behind the purple-colored friendly Ape, BonziBuddy collected personal information from the user's device. Besides that, it bombarded the device with different advertisement pop-ups. Moreover, it sold the collected data to third parties.
What Happened to the BonziBuddy?
After facing several lawsuits, Bonzi software discontinued BonziBuddy in 2004. For the BonziBuddy program, the company was ordered to pay fines of 375000 USD. After that, Bonzi software remained open till 2008. BonziBuddy had received wide recognition as spyware or adware in Windows OS. Since then, BonziBuddy is still inactive, as well as the Bonzi software company.
Is BonziBuddy Copyrighted?
All the contents of BonziBuddy were owned by the Bonzi software, including software, and copies are owned by the provider or the suppliers. BonziBuddy was a copyrighted program of Bonzi Software. After shutting down the Bonzi Software company, BonziBuddy remains inactive in recent days. The official website of Bonzi Software remains inactive in recent years.
Frequently Asked Questions (FAQs)
What Voice Did BonziBuddy Use?
BonziBuddy used a series called Sydney, which was taken from the old Lernout & Hauspie Microsoft Speech API 4.0 package. The program also used the text-to-speech method to interact with the user.
What was the License Status of BonziBuddy Malware?
The license status of BonziBuddy was Custom EULA. It could smoothly run on the Windows operating system at the beginning of this millennium.
Could BonziBuddy Track My Internet Usage Statistics?
Yes, the BonziBuddy could track your internet usage statistics as well as other personal information from your device. Also, the program had notoriety to spy on the user.
Final Words
Here, you have known enough about the BonziBuddy malware. It could collect your personal information and bombard the device with adware. For these reasons, it is flagged as the friendliest malware. That's all for today, have a great day.