Does IMVU Have a Virus? Is It Possible?
In general, Instant Messaging Virtual Universe aka IMVU itself is secured from viruses. But as this is an online platform, virus transmission is not unexpected here. 
IMVU is a social network gaming app that allows users to visit a virtual 3D world and let them create a custom 3D avatar to connect with other users all over the world. They communicate with each other via online chat and share data. So, it is possible to spread viruses in the system through the data.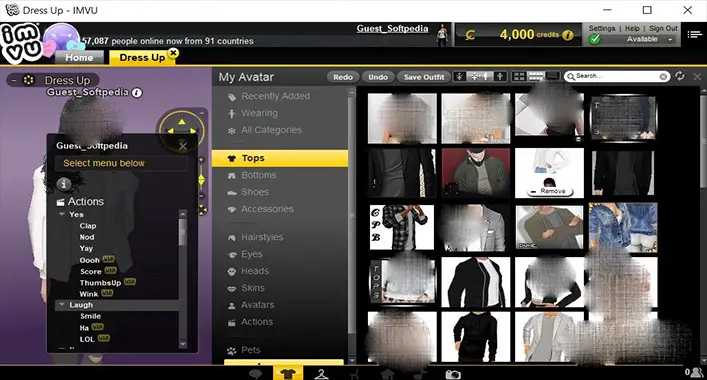 To learn more about the IMVU platform and if it is a possible source for viruses, keep reading the article till the end.
Does IMVU Have a Virus – How May IMVU Get Corrupted?
IMVU itself does not spread viruses or malware onto your computer system. It is free from viruses, but it might create new security holes that allow the insertion of malware by transferring corrupted files. When Google permits specific users to submit advertisements into their Adwords and Adsense networks, which are subsequently supplied into the attribution services such as advertisements that display on the product, IMVU becomes subject to threats.
In fact, IMVU is aware of this, yet they still seem to believe that spreading malware to users' devices through their website is not a serious enough concern to warrant spending money to solve it. Furthermore, IMVU is not prepared to block advertisements across the site for the sake of a less amount of damaged users because GoogleAds produce a considerable amount of cash for them due to their massive user base. According to studies, the site receives over ten million monthly visits from users, resulting in tens of millions of page views.
Who Is Responsible for Spreading IMVU Virus?
As IMVU is free software, it generates revenue by letting marketers display advertisements inside the game. Online adverts, especially those featuring animation, are frequently vulnerable to virus insertion by hackers. The chances of stopping potential viruses before they infect your machine increase if the individual virus protection is more effective.
Who Can Be at Risk From IMVU Virus?
Users that share unauthorized files and use guest accounts are typically in danger of contracting a virus from IMVU since they are frequently exposed via third-party advertising. Despite the use of AdBlockers, the only way to prevent or block the appearance of harmful advertisements is to acquire an avatar name or a number of other expensive upgrades or services.
How to Deal With IMVU Virus Attack?
If you get attacked while using the media directly from any browser, you have to terminate the browser process as soon as possible. To do so –
Right click on the Taskbar.
Select Task Manager.
Find out the browser name (chrome, opera et cetera).
Right click on the name and select End task. Or,
Select the name. Then go to the right bottom of the window and click on End task.
If you get attacked while using the executable file, you have to close the program and uninstall it. Also, remove the related malware with effective antivirus. To uninstall,
Open Start menu. 
Select Settings.
Go to Apps.
Check the installed apps list and search for IMVU.
Select it and click on Uninstall/Remove button.
Now, install a quality antivirus if it is absent from the device.
Run a full scan.
Remove or quarantine the viruses.
How to Play IMVU Securely?
Basically, there are two probable ways to avoid viruses while playing IMVU.
Do not click on any advertisements or irrelevant popup windows.
Do not click or run or open suspicious links or autorun or file in the game.
Frequently Asked Questions (FAQs)
Is it safe to use IMVU?
Yes, it is safe to use IMVU until you have clicked on any advertisements or go for shared data in the media. These are the causes that make a user's account vulnerable and let the virus spread in the computer system.
Which laptops are compatible with playing IMVU?
If any laptop that has this least required configuration can afford installation and run of IMVU –
Windows 7.
1 GHz Processor.
512 MB RAM.
Intel GMA 950 graphics card.
2 GB free drive space.
An ongoing internet connection.
Is IMVU free to download?
Yeah, it's a totally free online game. It can be downloaded from a reliable secondary website that regularly checks downloaded files for malware or viruses.
Conclusion
So, it is clear now that IMVU is not a malware or potential virus threat. But it can contain viruses through files and advertisements. Hopefully, this article has provided you with sufficient knowledge to be aware of playing IMVU carefully and avoid virus transmission.