Is 4chan Safe from Viruses? Prevention for Using 4chan
4chan is one of the biggest and most controversial forums. People are anonymous when posting on 4chan. And because of this, many people have shown concerns if the website is safe from viruses or not.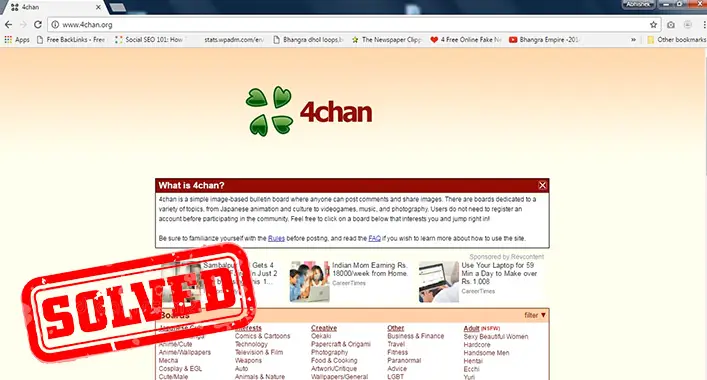 Yes, 4chan is completely safe from viruses. The website does a pretty good job of maintaining this so that no users get harmed when they're posting, discussing, or simply browsing the website. But there are some preventive measures you can take when visiting this website. Here we will be discussing what you can do to prevent any virus attacks when visiting 4chan. But first, let's better understand the 4chan website itself.
What is 4chan and Is It Safe from Viruses
4chan is an English-language anonymous image-based bulletin board-like website where anyone can post images or comments about anything anonymously. The site hosts many boards that are dedicated to a wide variety of topics that users can discuss. These topics can range from Japanese animation and culture to video games, software, photography, food & cooking, etc.
4chan was launched in October 2003 and as of 2023, this website receives more than 22 million visitors every month. And surprisingly, about half of those visitors are from the United States. The ability to post anything without your identity getting discovered is mostly why people come to this forum for discussions.
What to Do to Prevent Virus Attacks When Visiting 4chan
There is no such thing as being too careful. Although the 4chan website is very good at keeping viruses from attacking users, you should still be cautious just in case. Here's what we think would help you browse 4chan safely:
1. Install AdBlock
4chan only has banner-like ads and no pop-up ads. But still, it is good to have an ad blocker to prevent any unwanted ads since pop-up ads usually contain viruses. To install an ad blocker on your browser, simply go to google, find and install the ad blocker. This should be able to keep you safe from many viruses and malware not only from 4chan but also from other websites.
2. Avoid Unknown Software Downloads
It is best not to download any executable files (.exe files) from any forums, especially 4chan where everyone is anonymous. You never know the real intention of people and they could be posting malicious file links that will end up harming your computer.
This also goes for Word or PDF documents which can also be maliciously crafted and give you a virus. Hackers nowadays use many methods to get into your computer and steal information. So, it's best if you stay away from downloading anything from 4chan.
3. Disable Plugins
Disabling plugins is a good way of preventing viruses when visiting a website like 4chan. Other people can post flash videos with links that can lead you to malicious websites. Disabling plugins such as Java (Not JavaScript), Barrier, ClickToPlugin, etc. can help prevent virus attacks.
Frequently Asked Questions (FAQs)
What is 4chan Reddit?
The subreddit for 4chan is r/4chan which is based on the actual 4chan website. It is where people take a screenshot from posts on 4chan and then posts them on this subreddit.
Does 4chan have hackers?
Some speculate that 4chan is the breeding ground for hackers. While the 4chan website is pretty well-maintained, that speculation isn't necessarily false because hackers deceive people by hiding viruses within links and such. If someone clicks on those malicious links, then there is a possibility of getting hacked.
Conclusion
In brief, the 4chan website is quite safe from viruses. You won't get attacked by a virus just by visiting the website. However, stay away from clicking on random links, and do not download anything that looks suspicious.