Does Webroot Remove Malware? Antivirus Detector
Webroot is an antivirus tool that can detect and remove malicious codes from a device. In recent days, many users have expressed their concern about whether Webroot can remove all types of malware from a device or not. We will be discussing whether Webroot can detect and remove malware from a device. So, let's start;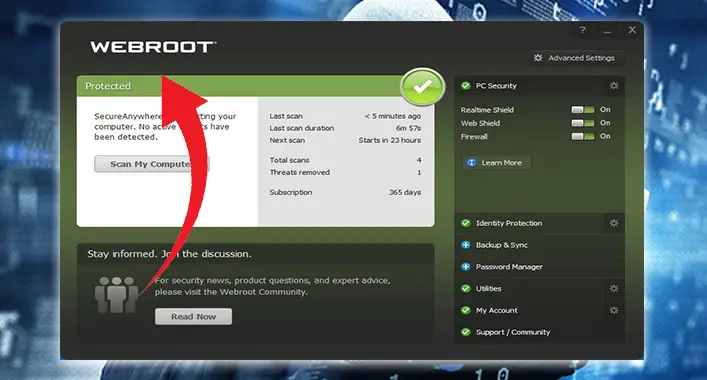 Does Webroot Protect from Malware?
Like all other advanced and expert-leveled antivirus tools, Webroot can detect and remove most malicious codes. It has a nearly perfect score in malware and phishing protection tests. As you know, there are various types of malware; viruses, Trojans, ransomware, spyware, rootkits, worms, and keyloggers are some of them. The Webroot can detect and remove most of the malicious codes. It uses both heuristic and cloud-based detection methods to detect and remove malware on a device.
Webroot can also provide protection against new and unknown programs. It lets the new and unknown programs run under strict monitoring, which keeps the user away from false positives. Moreover, it can immediately detect and quarantine any malicious samples. Also, Webroot has an integrated shield that can protect your confidential and personal data against stealing. So, it will be a wise decision to use Webroot antivirus for keeping away different types of malware from your device.
Does Webroot Remove Malware?
As mentioned before, Webroot can detect and quarantine most of the device threats and malicious codes. Its endpoint protection feature is designed to detect and mitigate all types of known or unknown malicious codes on a device system. Also, it has a variety of unique protection measures that can detect and remove zero-day threats or highly-targeted malicious codes.
Though, Webroot doesn't have any feature to clean the registry files of a device. But still, it can remove all other known-unknown malicious codes from your device. Moreover, it can remove the most sophisticated Banking malware. So, you can use Webroot antivirus to remove every type of malicious code.
Does Webroot Protect Against Hackers?
The integrated shield of Webroot protects your device against most hacking attempts, but it cannot give you protection against all types of hacking attempts. As you know, a good firewall is necessary to protect your device from hackers. If the hackers or cyber criminals drop a malicious payload on your system, Webroot can detect and quarantine the payloads. It cannot completely seal the entry points of the exploits. So, the Webroot can protect your device against hacking attempts in some cases, but it won't give you maximum protection against all the hacking attempts.
What are the Main Features of Webroot?
Like every antivirus or security tool, Webroot has some key features that will ensure detection and protection against malicious codes or malware. Here are the key features of the Webroot antivirus tool;
Heuristic and web-based detection method
Privacy and identity shields
Offline protections
Infrared defense
Outbound firewall
Anti-phishing technology
Endpoint protection
Evasion shield
Password manager
Remediation of ransomware damage
Frequently Asked Questions (FAQs)
What Percentage of Malware Does Webroot Detect?
A test conducted by AV-Comparatives in January 2018 says Webroot can detect 99.7 percent of malware samples. It can provide you with expert-leveled protection against different types of malicious codes.
Can Webroot Be Trusted?
Yes, you can trust Webroot antivirus software. It doesn't have any record of user data leaking. So, you can use it without any privacy concerns. Moreover, it is a fine antivirus utility tool that can detect and remove most of the malware from a device.
Does Webroot Check for Keylogger?
As you know, keyloggers can track all the keystrokes you type. Webroot can detect and block all types of a keylogger from your device, alongside other malicious codes.
Aftermath
You can use Webroot for your device security without any hesitation. It is recommended to not use multiple antivirus tools on a device. Else, you may face software conflict on the device. I Hope, you have got everything discussed in the article. That's all for today, have a great day with your secured device.