What Is TR/Trash.gen? How to Remove TR/Trash.gen?
TR/Trash.gen is the newest version of the virus that is too much harmful to the infected device. The third-party application can only detect it, but they are not being able to take significant action to remove TR/Trash.gen. These antivirus applications make things worse, by appearing pop-ups that say removing of threat has failed and the application won't let you ignore that application. So, what is this notorious virus? How to get rid of it?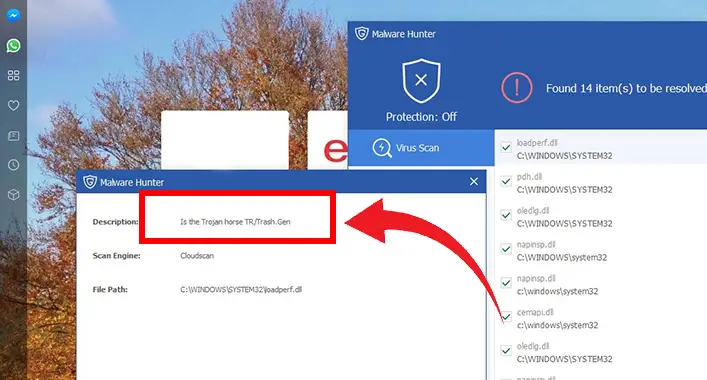 What is TR/Trash.gen?
The TR/Trash.gen is a type of virus that is able to create multiple issues on an infected device. It is mostly used by online scammers for conducting different types of malicious actions on computer device. This notorious program can affect any type of computer operating system and hugely damage the device system (software, settings, and programs).
Is the TR/Trash.gen Is a Type of Trojan Virus?
Trojan horse virus is able to mask up and hide with the system files to not get detected. The TR/Trash.gen also masks up with the system files like the Trojan horse virus. It can also download additional malware on a device and are capable to bypass the system security setting like the Trojan virus. So, the TR/Trash.gen is categorized as a type of Trojan horse virus. 
How Could a Device Be Infected by TR/Trash.gen?
A device could be infected by TR/Trash.gen in many ways, mostly by utilizing the system security holes. Even a slight security hole is enough for it to infect a device. TR/Trash.gen can be downloaded and installed on a device system as a dropped file through other malware or an unknown download from a malicious website. Also, a device can be infected by it after clicking on malicious code, unsafe adware, pornographic and gambling websites, and spam emails. In short, careless surfing through the internet without any protection can infect a device with TR/Trash.gen. 
What Can TR/Trash.gen Do?
After infecting a device, it opens a backdoor to allow entrance for other malicious applications or programs. Once installed, it can also create some malicious codes and files to modify the device settings and registry entries. Also, it can install additional spyware that includes adware, ransomware, and worms on the device. Through network exploits, it can drop other malicious files/programs/codes that are too much harm to your computer device. This Trojan has the ability to reduce the device performance and change the device setting without any permission. CPU usage could significantly rise high at any time, even when you don't have any application or website opened in the background. Sometimes, the TR/Trash.gen takes up high resources and slows down device speed as well as the performance of the device, which may cause the device stuck frequently.
TR/Trash.gen can generate disturbing adware pop-up alerts on the device screen to interrupt your online activities. It could stop a user to access some applications by corrupting the application database. By changing the internet browser setting without user permission, it could redirect the internet browser toward malicious websites and download malicious files, codes, and programs.
A hacker or online intruder can easily access and control a device through the TR/Trash.gen. After messing up the device system through TR/Trash.gen, a hacker could steal/collect personal information from the device. This virus could infect all the programs and files of a device and keep them out of the control of the user in order to give access to cybercriminals and hackers.
Is TR/Trash.gen Detectable?
The TR/Trash.gen is detectable, which masks itself as system files like a Trojan horse virus. This is one of the newest versions of the TDSS Trojan horse virus that was first detected on AVG Antivirus. Though this notorious virus is detectable by third-party antivirus applications, the third-party applications are not able to remove this virus permanently. So, for combating the TR/Trash.gen virus, a manual approach is required. Some methods are highly efficient to remove and reduce the damage caused by the TR/Trash.gen. As said before, the TR/Trash.gen masks up itself with the system files, and contains a random name to mask up, which makes it nearly impossible to detect manually.
How to Remove TR/Trash.gen?
There is no permanent solution that could permanently remove the TR/Trash.gen Trojan horse virus, but some methods could reduce the damage to this notorious virus. It is recommended to follow one of these below-described methods as soon as possible, whenever the TR/Trash.gen Trojan virus is detected.
Method-1
First Step; – Reboot the Device into a Safe Mode with Networking
Rebooting onto safe mode with networking allows the network drivers and services to access the internet while rebooting the computer.
Step-1
Press the Windows key + R to open the Run Dialog box, type msconfig in the Dialog Box, and press enter to open the System Configuration Window.
Step-2
Go to the Boot tab of the System Configuration window tick on the Safe boot option and then select Minimal and then Network. Thereafter, click Apply from the bottom of the window. Hereafter, choose Restart from the confirmation pop-up. Your device will restart and boot into Safe mode with networking.
Second Step; – Erasing the Files Produced by the TR/Trash.gen Virus
As said before, the TR/Trash.gen could hide deeply in hidden system folders, so you need to alter the folder options settings to display the hidden and protected files in order to erase the files produced by the TR/Trash.gen virus. You can locate the associated files from the below paths;
%AppData%\Protector-[random].exe
%AppData%\npswf32.dll
%AppData%\Inspector-[rnd].exe
Third Step; – Erasing the registry entry created by the TR/Trash.gen virus
Open the Windows Registry Editor and go to Registry Keys and Registry Entries from TR/Trash.gen Trojan horse virus and erase all these entries. You can find all the registry entries created by this notorious Trojan by following the below paths;
HKEY_LOCAL_MACHINE\ SOFTWARE\ Microsoft\ Windows NT\ CurrentVersion\ Winlogon\ [random]
HKEY_LOCAL_MACHINE\ SOFTWARE\ Microsoft\ Windows\ CurrentVersion\ policies\ Explorer\ Run\ [random]
HKEY_USERS\ .DEFAULT\ Software\ Microsoft\ Windows\ CurrentVersion\ Internet Settings\ [random]
HKEY_LOCAL_MACHINE\ SYSTEM\ ContrlSet001\ Services\ svflooje\ Enum\ [random]
Once done with the Safe mode with networking, undo the safe boot option to boot your device normally.
After booting into safe mode and deleting the files and registry created by the TR/Trash.gen, you need to restore the infected device from a restore point. Or it could be another option to get rid of this type of Trojan horse virus.
Method-2
Restore the Device from a Restore Point
A restore point allows you to restore your device to a previous state. Removing the TR/Trash.gen virus permanently, and restoring your device system, is an effective way.  Whenever you install an application or driver, windows create a restore point automatically. Though you can manually create a restore point. You can follow the below-described steps to restore your device from a restore point;
Step-1
Open the Windows Command Prompt, execute the rstrui.exe to open the System Restore window of your device, and click on Choose a different restore point.
Step-2
Afterward, click on Next to see the restore points of your device. Select the restore point that was created before the installation of the TR/Trash.gen virus (click on Show more restore points to see more restore points list). After selecting the restore point, click on Next to go to the confirmation window of a restore point.
Step-3
Thereafter, click on the Finish button to start the restoration process from a restore point. Your device will perform a restart and will go back to its previous state of the device.
Restoring the device from a restore point could help you to get rid of the TR/Trash.gen virus if your device is most recently got infected by this virus.
How to Prevent My Device from Getting Infected by the TR/Trash.gen?
Keeping your device secure helps you to avoid malware, virus, Trojan, and other malicious programs or applications that could harm your device. To avoid the TR/Trash.gen o your device, you can also follow some methods and advice.  These methods and advice are the easiest and simplest to follow, and some of these tips and methods are described below;
Firewall
Microsoft has a built-in Firewall that can keep your device away from viruses and other cyber threats. Enabling firewall protection can keep your device away and safe from all kinds of viruses, malware, spyware, ransomware, adware. Of course, you need to update the Windows firewall protection after a certain time.
Third-party Antivirus Applications
Third-party antivirus applications are mainly designed to remove the files and programs that are harmful to the device. So, an antivirus application could help your device to avoid virus threats. There are many third-party antivirus applications available, but using a premium version of the third-party application is the most effective to keep your device secure from most cyber threats.
The Updated Version of Installed Software and Application
The updated version of an operating system is more secure and more capable of avoiding virus and malware threats and issues. So, keeping the operating system and the installed software, application, and programs could help your device to keep away from any kind of virus, including the TR/Trash.gen.
Safety Internet Browsing
While surfing the internet, you must not visit any unsecured websites and not even download anything from an untrusted source. Make sure to not click and enter on a suspicious website and any pop-ups.
Secure Passwords
Every online server requires a password and a username to access the server storage. While using an online server, use a secure password to restrict hackers and intruders to access your server account.
Avoiding Spam Messages and Emails
Never open any suspicious attachments and click on unusual links delivered with messages and emails. There could be malicious content that could be harmful to your device.
Avoiding Unrecognized USB and External Device
Unrecognized USB (Universal Serial Bus) and external devices could make harm to your device by installing malware and virus through them. In this case, you need to make sure that the USB and the device belong to a reliable source or are owned by you.
Frequently Asked Questions (FAQs)
How Many Antivirus Should I Use on a Computer Running with Windows Operating System?
Windows do not support multiple third-party application on the same device. Performance issues, fighting over files and monitoring processes, accusing one another could be caused if there are multiple third-party applications. So, it is better to keep only one third-party application on the Windows-operated computer device.
What if I Do Not Remove the TR/Trash.gen Virus?
If you do not remove the TR/Trash.gen virus from your device, it could damage the system of the device as well as the performance of the infected device. Also, this virus is a constant threat to the personal and confidential information stored in a device.
Why I Can't Use a Third-Party Antivirus Application to Remove the TR/Trash.gen Virus?
The third-party application only can detect the virus, but they cannot remove the TR/Trash.gen virus. That's why you need to follow the manual ways to remove the virus.
Finishing Up
Now, here you are, hope that you have known enough to keep your device safe and secure from the TR/Trash.gen virus. To keep your device safe from cyber threat and all types of malicious applications. That's all for today, stay safe.