[Fix] Windows Not Genuine Malware | Removal and Protection
Hackers and cybercriminals are getting smarter day by day. They are inventing and applying new techniques to get into a device. Recently, some user has reported that they have been scammed through a fake pop-up that says This copy of Microsoft Windows is not genuine. This notorious pop-up also asks for the windows registration key, but it doesn't disappear even after entering a legit registration key. What the hell is that fake pop-up? Why does it appear continuously? Let's find out: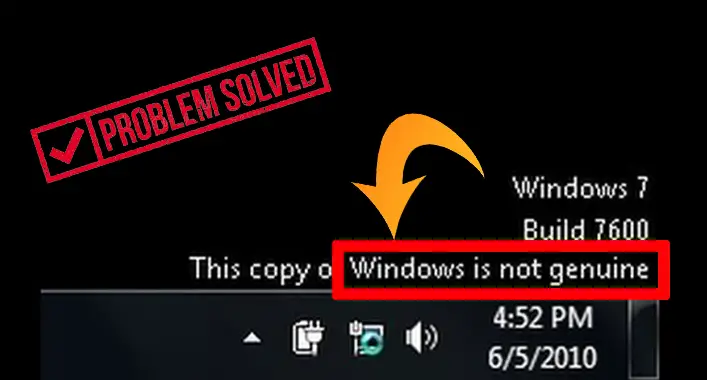 What is "Windows Not Genuine"?
When you are not using a genuine or legitimate version of Windows OS, Windows keeps showing a message on the device screen that says This copy of Windows is not genuine. Activating the Windows OS through a legit registration key can resolve the issue. These unlicensed versions of Windows OS have many security holes or vulnerabilities, which could cause security risks on the device.
Why Does My Computer Say My Windows Is Not Genuine?
Your device says Windows is not genuine when you did not activate the Windows license after the trial period, or you are not using a legit version of Windows. Also, you can find the same error message when your device is a victim of a scam. You cannot remove the error message even after entering legit windows registration keys when you are a victim of the scam.
Is Windows Not Genuine a Virus?
As said before, you may find Windows is not genuine when you are not using a legit version of windows. But it won't lock your device. When you are infected by the virus, you may also see an error message that is nearly similar to that with a pop-up and locks your device. That's a fake message is generated by the scammers through the virus. It asks for a registration key, but any kind of legit registration key doesn't help. The displayed pop-up contains a link that says Click here to get your key. This link is supposed to lead you to a survey that must complete, having the product key. Never click on the link, it may lead you to scams.
Sometimes, the link could redirect you to a pay-per-download domain and ask for downloading a text file that contains the product key. But it asks for a payment to download the text file, which is pretty much uncommon for a virus. In other cases, it encourages the user to call certified technicians for help through a contact number. Be aware, never try to contact them. Else, you could be getting scammed.
How could the Windows Not Genuine Virus Get into My Device?
The windows, not the genuine virus can be delivered through adware/malware applications, spam or phishing emails, P2P (peer-to-peer) networks, unsecured downloads, fake updater, Trojans, and other mediums. Also, the hackers and cybercriminals could use MitM attacks to get into the device. Now, you got all the entrance points of this notorious virus.
How to Protect a Device from 'Windows Not Genuine Malware'?
To protect your device from Windows that is not a genuine virus, you need to follow some tips. Here are the tips that you can follow to protect your device from Windows, not a genuine virus;
1. Safe Browsing
Only safe browsing could help you to beat most of the device threats. Because most of the modern hacking techniques are browser-based, they use the browser as the entry point of a device. Cybercriminals and hackers could trick the user easily while they are using the browser to surf through the internet. So, you need to be aware while surfing through the internet. Always surf through the secure domains and never download any file from an unsecured source or never click on any suspicious pop-ups to avoid threats.
2. Updated Security Tools and Other Applications
Outdated security systems and other applications can be vulnerable to any kind of threat. Especially the security tools or firewalls. So, you need to update the security system and firewall along with other applications for beating up hackers.
3. Ignoring Unsecured Sources
Always use a trustworthy and secured source while downloading and transferring files. Else, it can be too risky for your device security. Hackers or cybercriminals use unsecured sources to inject malicious code or get illegal access to your device in most cases. For a healthy device, ignoring unsecured sources is highly recommended.
4. Verifying Software Legitimacy
Legit software or programs are less vulnerable to cyberattacks. And you know, less vulnerable means more secure. Using verified versions of the software and programs can help you to keep your device safe against various types of threats.
How Do I Get Rid of This Copy of Windows Is Not Genuine Virus?
Removing Windows is not genuine virus from a device is not a hard nut to crack. You just need to follow some troubleshooting methods to remove it from an infected device. Here are the troubleshooting methods that you should follow;
Method-1 Removing Windows is Not Genuine Using the Safe Mode with Networking
Safe mode allows your device to startup with a minimum number of drivers and services. This helps the user to solve various types of device issues. It could also help you to remove viruses or malware.
Step-1
Boot the Windows-operated device in safe mode with networking. To do so, you need to press and hold the Shift key and restart your device. It will perform a restart and open a BSOD (Blue Screen of Death) screen. From that blue screen, navigate through Troubleshoot > Advanced options > Startup Settings > Restart to open the Startup settings page. Here, you will notice 9 startup options, press 5 to start the device into Safe Mode with Networking.
Step-2
Thereafter, log on to the infected account and download an advanced leveled anti-malware security tool. Now, complete a full scan of the device through the downloaded security tool and remove all the detected threats.
Afterward, restart again your device to go back to the normal state of the device. Check if this had helped you to remove the virus. Otherwise, restore the device through the system restore point.
Method-2 Restoring the Device from a Restoring Point to Remove the Virus
Restoring a device from a restore point allows you to recover the device system to a previous state. A restore point is a backup copy of the important OS (Operating System) files. Here, is how to restore your device by using a restore point;
Step-1
Press the Windows key and type Restore on the windows search bar. On top of the list, you will find Create a restore point, click on it to open the System Properties.
Step-2
Once on the System Properties window, go to the System Protection tab and click on System Restore to open the system restore window. Hereafter, click on next to see the list of the system restore points. Now, select an older restore point, in which your device was not got infected. At last, click on the Finish to start the restarting process.
The above-described troubleshooting methods will surely help you to get rid of the virus infections.
Frequently Asked Questions (FAQs)
What Are the False Positive?
The false positives trigger while the security tools incorrectly detect secure files or URLs as malicious. It mostly happens with software programs that have characteristics of malware or use identical file compression and protection techniques. Because all these characteristics are common on most malicious programs.
How Can I Make My Windows Genuine?
To check whether you are using a genuine version of Windows or not, you need to navigate through the Settings > Update & Security > Activation Settings. Here you can check the legitimacy of your Windows OS. Also, you can activate your Windows by entering a legit registration key from here.
Is Windows Defender Strong Enough Against the Threats?
Yes, an updated version of the Windows Defender is strong enough against most of the advanced leveled device threats. Remember to keep the updated version of Windows Defender on your device.
Final Words
At this point, you have known enough about the windows, not genuine fake error pop-ups. Though this could cause huge damage to your device, yet you can easily beat this fake pop-up. Always use a trustworthy source to download or transfer files. That's all for today, have a great day.