[ANSWERED] Does Malwarebytes Scan All Drives? 
Whenever antimalware programs are talked about, Malwarebytes always comes up. It belongs to the most efficient and user-friendly antimalware programs with a higher malware detection rate. As it provides such excellent protection against all types of malware, millions of users worldwide have chosen it to protect their PCs. 
Malwarebytes ensures protection by scanning the hard drives, detecting existing malware, and removing them just like any other effective antimalware. But some users have a question in their mind regarding the scanning procedure. In various forums and social platforms, they've been asked whether Malwarebytes scans all drives including the external ones. 
The simplest answer is YES! All you need to do is connect the external drives to the system and perform a scan. This post consists of all the relevant information that'll help you understand the matter conveniently. So, without any delay, let's get started.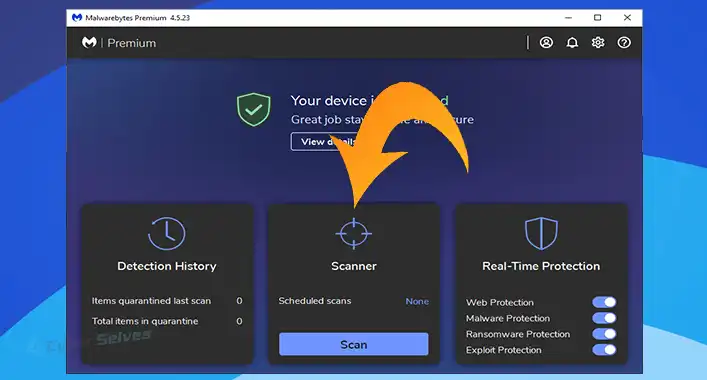 Is Malwarebytes Capable of Scanning All Drives?
There are numerous users who feel free to store their data on portable or external drives instead of hard drives, especially when the data is personal or confidential. And you can scan them by connecting them to a computer system. Of course, Malwarebytes is capable of scanning all drives connected to your PC. By default, the Threat Scan will scan all local drives on your PC including the system drive. But for external drives, you've to perform the Custom Scan. You can also use this scan option to scan specific drives.
While checking files in drives, Malwarebytes also checks all running processes, threads, loading points, and loaded modules on drives and in the registry. Therefore, no malware can escape from Malwarebytes even if the malware stays in a location that isn't normally checked by the scan for others. Malwarebytes can still detect it as it checks all running items in memory and all system loading points. 
So, it checks an item, verifies if it's malicious, and if so, marks it as a threat and quarantines or removes them depending on your Malwarebytes subscription.  The only exception where it might miss malware would be if the malware is inactive because it hasn't been executed yet. But fortunately, such threats also can be detected by real-time protection if the malware ever aims to execute into memory.
FAQs (Frequently Asked Questions and Answers)
Does Malwarebytes scan all profiles?
Yes, it does. The modern Malwarebytes program can successfully scan all user profiles. It scans all local user registry keys, temp locations, and data storage regarding all user profiles including the current profile. 
Does Malwarebytes scan all drives on Mac?
Even though Malwarebytes offers to scan all drives regardless of local or external on Windows, for the Mac operating system it isn't the same. On Mac, Malwarebytes isn't allowed yet to scan any external drive under any circumstances. 
How do I get Malwarebytes to scan all drives?
The procedure is pretty simple. All you've to do is right-click on the file or folder or drive that you want to scan. After that, select Scan with Malwarebytes from the context menu. That's it.
Conclusion
As you've read this far, it's quite assumable that you've understood that Malwarebytes surely can scan all types of drives. You just have to apply the Threat Scan for local drives and Custom Scan for external drives. And needless to say, the premium Malwarebytes obviously gonna offer you more protection by using powerful real-time protection. Therefore, it's better to get the Malwarebytes subscription.