Does Webroot Remove Viruses? Proper Explanation for You
Undoubtedly, Webroot is one of the finest cybersecurity services that offers real-time protection to identify and block threats as soon as they appear. It was developed by an American private cybersecurity software company named Webroot Inc. They provide internet security for clients and consumers. 
But those who aren't familiar with them have a simple and common question in their mind – does Webroot really remove viruses? The straightforward answer to this question is Yes! We're about to explain the entire matter in this post. Just take some time and read the post till the end.
So, let's begin!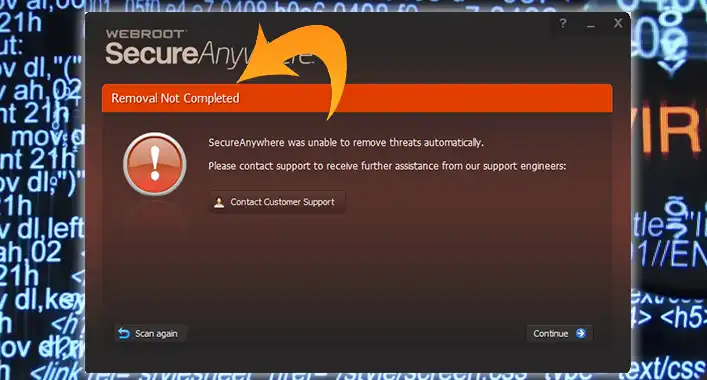 Is Webroot Capable of Removing Viruses?
Yes, Webroot is capable of removing viruses from infected devices. It scans your computer or device for various types of malware including Trojans, worms, ransomware, spyware, etc. and then takes appropriate actions to remove or quarantine the detected threats. Additionally, it uses a cloud-based approach to threat detection, which allows it to identify and block new threats and other malicious software quickly. In order to do such things, Webroot uses a combination of signature-based detection and behavior-based analysis. 
It's designed to provide real-time protection and actively monitor potential threats, ensuring your system remains secure. Even though no antivirus software can guarantee a 100% removal rate, as potential new malware can sometimes elude detection, Webroot utilizes heuristic detection that uses artificial intelligence to identify new viruses that still need to be added to the signature database.
But to ensure consistency, you need to keep your antivirus software up to date and regularly perform scans to maintain a secure computing environment. Luckily, it regularly updates its virus definitions to stay up to date with the latest malware variants.
Frequently Asked Questions (FAQs)
What's the benefit of Webroot?
Webroot antivirus comes with a handful of benefits. Those are real-time protection, identify theft protection, fast, cloud-based scan, and PC and Mac support.
Do I need a VPN if I have Webroot?
It isn't mandatory to use a VPN when you use Webroot. But to ensure better security, it's recommended to use the Webroot WiFi security VPN and Internet Security simultaneously. 
Does Webroot stop hackers?
According to Webroot Inc., Webroot internet security can successfully protect your computer system from online hackers. By using its dedicated firewall and keeping the software up to date, you can effectively prevent hackers from gaining access to your system. 
Is Webroot better than McAfee?
The truth is that even though Webroot is considered a faster and renowned antimalware program, McAfee surpasses it by being a better one. The simplest reason is McAfee offers better internet security and a variety of several privacy options which brings more benefit to users.
Conclusion
Now that you've read this far, it's pretty assumable that you've understood the concept of Webroot and how it removes viruses from your system. There isn't any doubt that Webroot can remove malware. But there are various antiviruses available on the market that are better compared to it. So, before using Webroot, you can think about them. If you've any further questions, feel free to knock us in the comment section.