Is DAEMON Tools Lite a Virus? Explain in Detailed
DAEMON Tools Lite is a program used to create virtual drives and mount and access disk image files. In general, this program is legitimate and many users worldwide have used it without facing any issue. But there are other users who claimed DAEMON Tools Lite is a virus as their antiviruses detect this program as a virus because of its bloatware nature.
This post contains an explanation about whether DAEMON Tools Lite is actually a virus or not. All you need to do is read the post till the end.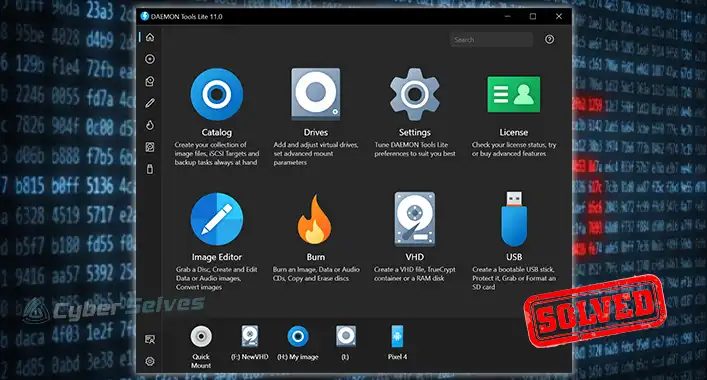 Is DAEMON Tools Lite a Potential Threat?
DAEMON Tools Lite has an intention of installing various third-party apps without the user's consent and no one can guarantee that all of those apps are safe for your computer system. The simple reason is you don't know from where DAEMON Tools has downloaded and installed them. If the sources are malicious or unreliable, maybe the apps are also malicious and can potentially exploit viruses. 
Does that mean DAEMON Tools Lite from all sources is contaminated with the virus? Actually no. Not all DAEMON Tools are suspected to be a virus or the spreading virus. If you download this program from its official website, you're most likely out of the virus infection risk and there should be nothing to worry about. But if you download the program from an unfamiliar or doubtful source, there can be a possibility that the DAEMON Tools program is tampered or attached with potentially harmful malware. 
So, it can be said that the legitimate DAEMON Tools Lite program, which you can find on its official website, is trustworthy and not a virus. But if you try to download this program from third-party websites then there's a risk that it can be contaminated with viruses. 
FAQs (Frequently Asked Questions and Answers)
How safe is DAEMON Tools Lite?
If you download and install the program from its official website or purchase it from the official outlet, it'll be completely safe. On the contrary, if you try to download it from a malicious website, it won't be safe anymore. Many people prefer to download and use the software's cracked version for free. However, the sources that contain the cracked software are most likely to exploit viruses. 
Can I uninstall DAEMON Tools Lite?
Of course, you can. Like any other application, you can uninstall it from the Apps and features. If you're concerned about getting infected by a virus while using this program, you can surely uninstall it without any hassle. You can find numerous alternatives to this virtual drive program such as UltraISO, Virtual CloneDrive, WinCDEmu, etc. 
Conclusion 
It should be clear by now that the original DAEMON Tools Lite program, provided by the actual/official developers, isn't a virus and is pretty safe to use. So, if you're thinking about using it as your virtual drive creator, make sure to get it from the official site or any reliable source. And to be protected from any virus, always use a powerful antimalware program. If you find this post useful, feel free to share your valuable feedback.