Is it Safe to Use Daemon Tools Lite Malware? The Characteristics of DTLite.exe
The software tools made it easy to complete any task through the device. Some of them are easy to use, while others are a little complex. Also, some tools may cause damage to the device despite not being a virus or malware. The Daemon Tools Lite is a kind of tool that can harm your device despite not having any malicious characteristics or behavior. Though, some security software flags it as a kind of virus. We will discuss behavior, characteristics, and whether it is safe or unsafe for your device. So, let's start;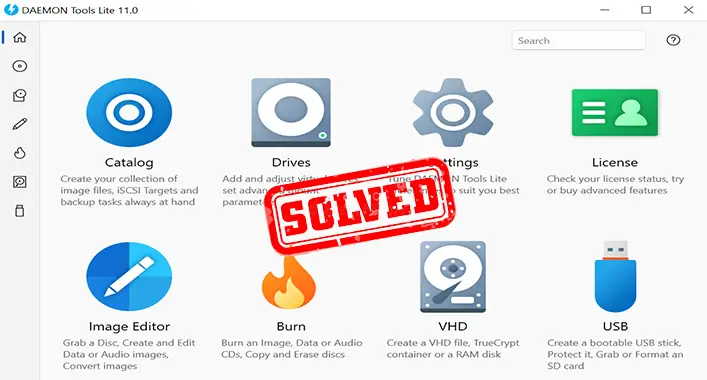 What is Daemon Tool?
Daemon Tools Lite is a type of disk emulator that uses root-kit-like techniques to hide from other programs and can modify other security tools of the system. Since 2000, Daemon Tools have been known as an emulator software to work with virtual drives and disc images professionally. The tool allows the user to play FLAC or APE audio images. In fact, it is a great disk emulator, but the characteristics of this tool are malicious. It may mislead the user through modifying the system's security tools.
What is the Use of Daemon Tools Lite?
The Daemon Tools Lite is especially used to create and mount images on a device from CD drives or other drives. It can easily emulate 4DT, SCSI, or HDD drives. The tool offers a wide range of features that are actually useful for a device. But the tool is not much safer for a device for its malicious characteristics and behavior. 
Does Daemon Tool Lite Have a virus?
The Daemon tools are not viruses, malware, or other kinds of malicious threats to a device system. But it could damage the device and mislead a user by modifying the security tools of a system. It works like a rootkit, hides on the device system, and produces so many misleading issues for the user. Daemon Tools mislead the user by modifying the inaccurate scan results, false detection of legitimate files, and causing unexpected crashes on the system. Also, it may be a root cause of facing BSOD (Blue Screen of Death) issues. It could cause all this harm by only modifying the system's security files. The Daemon Tools does not run it in the background like a virus or malware, but it causes major damage to the device and the user, and for these reasons, it is identified as a virus. So, despite not having any characteristics of a virus, it can cause damage to a device by only modifying the system's security files.
Is it Safe to Run Daemon Tools Lite Malware?
As said before, the Daemon Tool Lite or DTLite.exe is responsible for modifying the system security files by hiding itself on the system and misleads the user by showing inaccurate scanning results or unexpected crashing of the device. Sometimes, this tool uses the CPU and the GPU excessively while running on the device. While running on the device, it may cause unexpected crashes and BSOD issues on the device. This thing may cause major damage to a device. For its malicious behavior, it is flagged as a virus by third-party antivirus tools. So, the Daemon Tools Lite or DTLite.exe is not safe to run on a device for its malicious characteristics. Here are some of the major causes why DTLite.exe is not much safe to run on a device;
1.      DTLite.exe causes software conflicts sometimes, and it impedes other applications from running properly. In some cases, it causes other applications to crash forcefully.
2.      DTLite.exe has some malicious characteristics for which it may mislead or misguide the user.
3.      It enhances inaccurate scan results, which flags the legitimate drivers as malicious.
4.      The DTLite.exe may trigger some issues, including the BSOD (Blue Screen of Death) Issue on the device.
5.      Sometimes, it significantly uses GPU and CPU, which could affect the device performance.
Is Daemon Tools Lite a Kind of Virus?
The Daemon Tools Lite program does not have characteristics of a virus or malware, instead, its working process matches with the rootkits. It can hide on the device system and modify the security files and systems like the rootkits. Despite that, it is identified as a virus by most computer security tools for its malicious characteristics. So, you can also define it as a kind of virus that can cause major damage to your device. That's why you need to uninstall or remove it from your device to avoid further issues caused by it on your device.
How to Uninstall/Remove DTLite.exe from a Device?
It is easy to uninstall or remove the DTLite.exe from your device. You just have to follow some basic program uninstallation steps on your device to remove it. You can follow the below-described steps to uninstall or remove the DTLite.exe;
Step-1
Press the Windows key + I on your keyboard to open the Device Settings of your PC. Afterward, navigate through Apps > Apps & feature.
Step-2
Scroll down to the Apps & features list of your device until you find Daemon Tools or DTLite.exe. Once you find them, click on them to see the Uninstall button. Thereafter, a confirmation pop-up will appear, click Yes to start the uninstallation process.
Frequently Asked Questions (FAQ)
What is a CD Emulator?
The CD emulator is a software or program that emulates a disc drive and allows the user to read and write files and programs in other drives from the disks. Through the disk emulator, a user mounts an optical disc image on the device.
Which are the Legitimate Drivers?
The driver that follows strict software quality standards is called legitimate drivers. Legitimate drivers are safe to use on any supported device. In short, the drivers that are safe to use on the device are legitimate drivers.
Can I Still Use DTLite.exe?
Yes, you can still use DTLite.exe, but remember to not run it as the background process. It looks too much risky to run it in the background. That's why it is better to go for an alternative application.
Aftermath
At this point, I hope you have known enough about the malicious behavior of the Daemon Tools Lite. Though this tool is flagged as a kind of virus, it doesn't have anything in common with the virus or malware. Remember to scan your device complete with a security application to avoid infection and programs with malicious behavior.