Avast Virus Chest No Restore Option | How to Restore
Avast has a propensity to erase your data if it thinks of any file as a threat. These files might be crucial, and deleting them could get you into trouble. If you are failed to restore them from the virus chest, you may need to use a data recovery program.
Though technology has advanced so much, there are related issues too. Nowadays, you can catch a digital virus from any open source. So, safeguarding your computer is essential. Your computer is shielded from malware and viruses by antivirus software. Undeniably, Avast is one of the top antivirus programs available.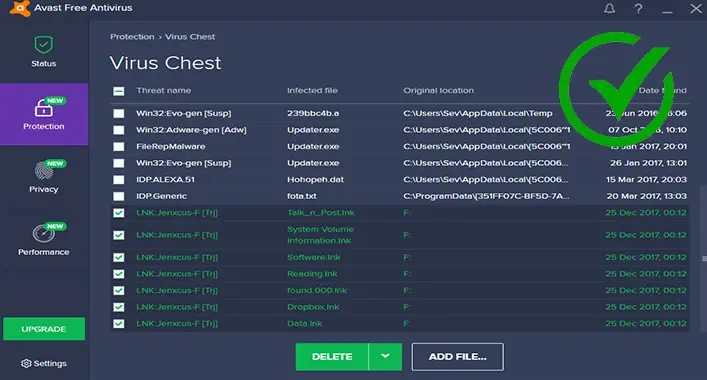 This article is all about how to access the avast virus chest and retrieve deleted files, as well as how to restore a file even if restoring from the virus chest get fails.
Why is Avast Detecting Common Files as Threat?
Avast protects your computer from virus attacks, but it also has certain downsides. In some common cases, Avast gets blamed for accidentally erasing files while running, including installed executable programs, photographs, and documents. The reason is probably the existing inappropriate algorithm of the software. 
But before restoring any file, you must confirm that the removed files are not malignant in nature. Otherwise recovering a real virus can result in more data loss. To be cautious, stop restoring the deleted file if you are unsure and can move on without it. However, if the file is crucial, restore it.
Where to Locate Avast Virus Chest?
Avast Antivirus immediately moves files that are identified as potentially harmful to a dedicated location called Avast Virus Chest. You can primarily restore them from here. Follow these simple steps to access the virus chest –
Step 1: First, run the Avast program.
Step 2: Go to the Protection section. There will be some available features along with Virus Chest.
Step 3: Click on Virus Chest.
Here, you can find the deleted files and programs.
Solution: 'Avast Virus Chest No Restore Option' Issue
There is a decent chance that you can restore your files if they have been permanently lost, but you will need a reliable data recovery program to accomplish this. Choosing the most effective data recovery program might be challenging. There are numerous apps available for data recovery that work reasonably well. Such as MiniTool Partition Wizard, Wondershare Recoverit, 4DDiG Data Recovery, Disk Drill et cetera. Here are some aspects you should think about when seeking reliable data recovery software –
Supported File Formats and Storage Media
The recovery app you select should be able to work with as many file kinds as feasible. You run the danger of being unable to recover the files you want to if you can only recover a small subset of file types. The same holds true for the supported storage media types.
High Speed
While a deeper search typically takes longer, users have the option of a speedier scan, giving them the chance to recover files quickly if necessary.
High-Efficiency Preview
Quickly recognizing the files that are present requires the ability to preview files. Users may now easily find the files they might want to recover thanks to this.
Ensure Data Integrity
Data will be fully restored, keeping its original size and format.
Easy in Using
Data recovery software should be simple to use. If you do not know how to utilize your software, having the best features is useless.
Here, for example, you will learn the usage of 4DDiG Data Recovery. 
Procedure for Using 4DDiG Data Recovery
Step 1: Run the app. A window will appear with a list of every storage device currently connected to your computer. On this window, everything is accessible, from local to external. Click Scan after selecting the device or storage where your data was erased.
Step 2: Check the files that were discovered. You can select any one or all of the files you want to recover, then select a destination and click Recover to do it.
How to impede Avast from Deleting Specific Files?
The files that avast has removed can be restored directly from Avast Virus Chest or by following the method listed above. But unfortunately, it will not prevent avast from destroying it again. So, to impede Avast from deleting specific files, you need to execute one more method –
Step 1: Run the app and go to the dashboard.
Step 2: Click the Menu and open Settings.
Step 3: Now, from the Settings tab, select General. 
Step 4: Extend the Exceptions section. Select Add Exception.
Step 5: In the File Path, insert the path and click Browse. 
Step 6: After locating the executable file which needs to mark as an exception, click on ADD EXCEPTION. 
Step 7: To add the file's path to the Avast whitelist, double-check your changes and click OK.
Frequently Asked Questions (FAQs)
How to restore files from Avast Virus Chest?
This is a quite simple task. To do so –
First, launch the Avast application.
Go to the Protection tab from the left sidebar.
Choose Virus Chest.
Now, choose the files that you need to restore.
Click on the 3 dots to see more options and select Restore.
How to recover deleted files from quarantine?
Try this way to recover the deleted files –
Open Start menu.
Go to Settings.
Click on Update & Security.
Go for Windows Security.
Select Virus & threat protection.
Go to Protection history.
Here, you will find all the quarantined files. Choose the items that you need and restore them.
How may I recover any files after a virus scan?
If there is a file that you need to recover after it gets deleted through a virus scan, follow these easy steps –
Open the antivirus program that you have used to scan.
Select the Menu option.
Go for the Virus Chest or Quarantine or any other specific tab that contains the quarantined files.
Select the file(s) you want and recover it by clicking Restore.
Conclusion
As it is confirmed that Avast frequently deletes some common files by mistake as a potential threat, the files need to get restored and also you need to prevent Avast from deleting them again. This article may provide the information that you need to do so. To get more secure, try to back your important files into another safe storage.