What Is a Win32 Malware-Gen? Necessary Steps to Remove
To know about it, first, we have to know about Malware-Gen. 
Malware is basically software, intentionally created to harm computers and gain information from users. Gen represents generic which means unidentical to other viruses or threats. So, Malware-Gen is such a notorious file that is considered a threat and not categorized commonly with other threats. Win32 Malware-Gen means a 32-bit file is detected by a virus scanner as a potential threat.
Keep reading to know further about it.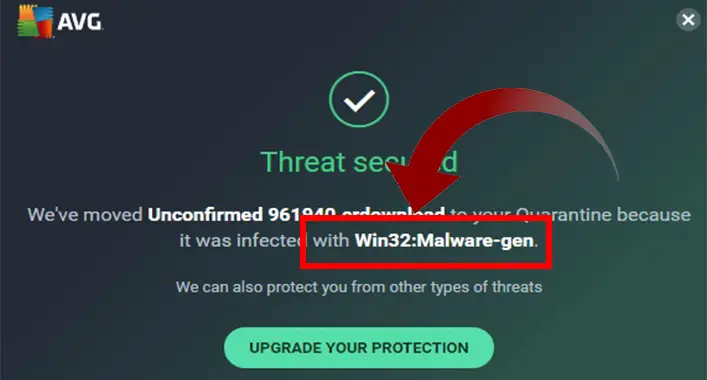 What Is a Win32 Malware-Gen | Harmful Aspects
When a computer is infected by Win32, it chronically spread viruses into the system. Later, it shows some symptoms of its appearance and unethical things happen.
While working, popup ads will constantly appear
Suggest unauthentic software and updates
Web page texts may change in hyperlinks
Disrupts windows system files
Make computers less functional
Will save unauthorized and unwanted files 
Share confidential information with hackers
How to Remove Win32 Malware-Gen Threat?
As we can see, it is a genuine threat to us, we must take the necessary steps to remove it from our computers. Here are the three easiest steps to follow –
Step 1: Download the rmvirut.exe free removal tool.
Step 2: Run the tool for an automatic scan of all disk files. After detecting viruses, it will ask for a restart.
Step 3: When restart is done, do a full scan and ensure that the antivirus is up to date. 
This is a simple solution for the removal. Even, there are also some other methods too.
Method 1:
Step 1: Press Windows Key + R for the Run option.
Step 2: Then go for Registry Editor by searching "regedit".
Step 3: Now, press Ctrl + F and insert "SoftwareBundler:Win32/Dartsmound".
Step 4: Click on Find Next.
Step 5: Delete any entries that are connected to Win32/Dartsmound.
Method 2:
Do a full system scan with better antivirus software. 'Emsisoft Emergency Kit' and 'Malwarebytes' are two efficient antimalware software that can be used for deleting any dubious malware including it.
Procedure for Using Emsisoft Emergency Kit
This is a prominent scanner for removing malware. It works properly and is renowned by users. To use it –
Step 1:  At first, download the Emsisoft Emergency Kit.
Step 2: To extract, double-click on the Emsisoft Emergency Kit icon.
Step 3: Then double click on the icon appearing on the screen to open it.
Step 4: Click the scan option and do smart scan (It will show a full list of track-out viruses).
Step 5: Finally, to delete viruses click on quarantine selected objects.
Procedure for Using Malwarebytes
This is very popular amongst many users as it is remarkable in its job. To use it –
Step 1: First, download the Malwarebytes.
Step 2: Then double click on the setup file (mb3-setup-consumer) to install.
Step 3: Click "Yes" to continue.
Step 4: System scan will get started after double clicking the scan now option.
Step 5: After getting a full list of detected viruses, click the Quarantine button. It will delete the viruses.
Step 6: Finally, restart the computer to finish.
Conducting any of these two antimalware will fully free your computer from malware and secure it.
Method 3:
After scanning, a fresh boot is a must to ensure full security. To perform a fresh boot –
Step 1: Open Run. Go for "msconfig".
Step 2: Then System Configuration will be open. Go to Services tab.
Step 3: Check for all hidden Microsoft services option and disable all.
Step 4: Now, open the Task Manager. It will show a list of startup apps.
Step 5: Right click on the first one and disable it from the menu. Repeat the procedure until all startup apps are disabled.
Step 6: Then return to the System Configuration panel, click on Apply and Ok to save.
Step 7: Finish the step by restarting the computer. 
Frequently Asked Questions (FAQs)
Is Win32 Malware.Gen safe?
Unfortunately, the answer is no. It is a potential malware that can cause numerous harms to a user. It can expand through suspicious websites including file sharing networks. It can give remote access to scammers that ultimately lead to leak of personal information. It can hamper the overall performance of the PC. That means, it is definitely not safe.
Is Win32 a virus?
Yes, it is a shady virus. It infects removable and cloud drives along with local files. It also creates chances for hackers to get remote access to any computer system.
What is Gen virus?
Gen virus or generic virus are that kind of virus which is dissimilar from other common viruses. It will detect as a dubious file in any antivirus software but will not match with known threats. 
How do I get rid of Win32 virus on Windows 10?
To get rid of Win32 virus on Windows 10 –
Press Windows Key + I and it will directly open the Settings app.
Click "Apps" section.
Trace unwanted or suspicious applications and uninstall them. 
Avoid unnecessary extensions. Search for the Extension option in the browser, find out suspicious or less usable extensions, and remove them.
Conclusion
The sole purpose of this article is to inform about Win32 Malware-Gen. Basically, this malware attacks the operating system. It spreads in the system and allows hackers to control it. Ultimately it leads to stealing personal and confidential information. Moreover, it can completely crash the system too. But nothing to worry about as I have suggested some legit and obvious ways to get secured from it. This will also help to keep away from further malware attacks too.