How to Remove wpad.dat Malware? | Configuration File of the WPAD Domain
The WPAD domain plays a crucial part to detect and locate the URLs and proxy servers on the internet. The configuration file of the WPAD domain is stored in wpad.dat. In recent days, some user has claimed wpad.dat as malware in different forums. 
The truth is the real wpad.dat is not malware, but there are malware that are created with its name to mislead the users. And keep in mind that even though the real wpad.dat is safe, a slight configuration in it could cause huge damage to a device. 
We will be discussing the complete removal procedure of wpad.dat malware in this article. Therefore, stick to the article till the end.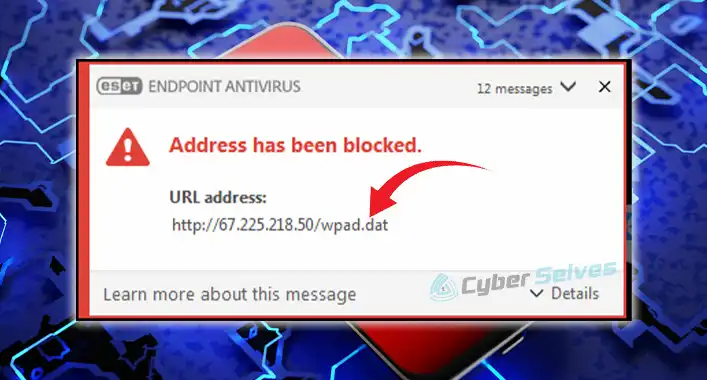 How do You Remove the wpad.dat Malware?
As we have already mentioned that wpad.dat malware is actually presenting itself as the actual file, it has to maintain that in a way in the system. But fortunately, this malware can be removed from the system with some simple yet effective steps. All you have to do is follow the steps accordingly. Here are them one by one –
Step 1: Restart into Safe Mode
Start by restarting the PC into Safe Mode with Networking. While the PC starting, press F8 and get into the boot selection menu first. After that, make sure that you are booting your system using Safe Mode with Networking.
Step 2: Uninstall WPAD Program
After booting into safe mode, open the Run window and go for appwiz.cpl. Then locate WPAD in the programs list and uninstall it. 
Step 3: End All WPAD tasks
Open the task manager by pressing Ctrl + Shift + Esc simultaneously. In the process list, check for tasks related to WPAD, and end them all. 
Step 4: Delete WPAD Entries
Open the Run window and execute regedit. Then press Ctrl + F and type wpad. You will get the entries related to wpad. Right-click on each of them and delete them. 
Step 5: Install a Powerful Antimalware Program
Restart the PC, go to the browser, and download a reliable and more popular antimalware that can successfully remove any malware from your system. In this case, we are recommending the Malwarebytes.
Step 6: Perform a Full Scan
Launch the Malwarebytes program. Make sure the program is up to date. Then go for a full scan. While scanning, it will show a list of infected files and programs. When the scan is complete, check if the wpad file is enlisted. Then remove all the files.  
Step 7: Perform System Restore
Now you need to perform a system restore from the safe mode. To do so, get into the boot section again by pressing F8 and this time go for Safe Mode with Command Prompt. Then type rstrui.exe and perform a system restore. Make sure to choose a date before you notice the wpad.dat. Finally, apply all available options here and restart your PC. 
Frequently Asked Questions (FAQs)
Can WPAD be Configured by the Third-Party System Monitoring Tools?
Some of the most advanced-leveled third-party system monitoring tools can configure the WPAD domain. But it is better to configure the WPAD manually.
Is WPAD Secure?
A properly configured WPAD domain is secure and can protect your device from different types of threats. But a misconfiguration could lead your device to get infected.
What Does WPAD Use to Locate the Domain or URL?
The WPAD domain uses DHCP or DNS discovery methods to locate the domain and URL. After locating or detecting, it downloads the configuration and starts to determine a proxy for the specified URL.
Aftermath
Despite not being malicious, the WPAD domain can cause damage to a device when it is not properly configured. Sometimes, it could be vulnerable to malicious cyber-attacks. So, it is better to disable the WPAD domain to avoid potential threats. That's all for today, have a great day.