Is Freemake a Virus? – Answered
Since you can use many software programs very quickly, you need to be sure that the tools you use are legitimate and secure. Freemake is a multimedia software tool that serves a range of different features and is getting famous in the world day impaired because of its user-friendly interface and versatility. But sometimes, concern about its legitimacy and security may arise. 
Moreover, some users report issues with the software, such as browser hijacking, pop-up ads, and many other potentially harmful activities. Furthermore, some users think it can be spyware that collects its users' information and data and transmits them to third-party advertisers. With these concerns, it is common to doubt whether Freemake is a virus. The short answer to the question is Freemake is not a virus. In this article, I will explore the entire thing.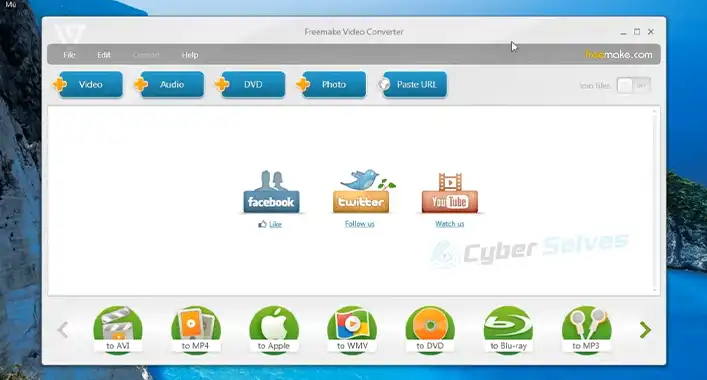 Does Freemake Contains Viruses?
I have already told you that Freemake is not a virus but a legitimate program downloaded by millions of users worldwide. However, you may find potential risks in any software to their users if they do not download them from trusted sources. 
Adware: You can have a primary concern with Freemake which is called adware. Adware is software that shows advertisements on your mobile or PC device. It is not harmful but can create a disturbance. Sometimes it can be intrusive and may compromise user security and privacy. 
Download: If you download Freemake from their official website, you will prompt to install extra software, including toolbars and browser extensions. When you are unaware of the installation procedure, it is common to inadvertently install unwanted adware, extra software, or other harmful software. So it is crucial to read all prompts attentively while installing any program and download it from a reputable source. 
Spyware: The other concern you may face with Freemake is spyware. Some users think Freemake collects information from the users and transmits the data to third-party advertisers. The users alleged that Freemake poses a potential risk to their data and privacy. But there is no evidence against Freemake that it contains spyware. 
Important Note: you must download Freemake from the official website because it is the most reliable and safest place. If you download from any unauthorized source, it can provide you with viruses and other harmful software. 
Moreover, reading all prompts while installing a program is essential, so you don't install browser extensions or additional software. Furthermore, you must use anti-spyware and antivirus to be protected from data breaches and malware infections. Again, you must protect your PCs with anti-spyware and up-to-date antivirus software. 
However, you must be conscious of your privacy risk. So consider the privacy policy of Freemake software while installing it to understand the data that the program collects. 
Frequently Asked Questions And Answers
Is Freemake an Excellent Program?
Yes, of course, it is. Freemake is an excellent program worldwide. Moreover, it is elementary to handle and straightforward to use. Furthermore, you will get huge options to convert videos in various formats. 
Do Not Freemake Be Free?
Freemaker software is available, and you can download it free from its official website. Moreover, the free license can't be expired. Again, all the core options you can get are free here. Furthermore, getting additional packs for extending basic functionality is possible when you become a PRO user.
Does Freemake Have Any Watermark?
Yes, Freemake has a watermark. You will get a watermark if you use the free version of it. Though the free Freemark video converter allows you to convert unlimited files, a logo comes on the converted clips. But if you don't want a watermark on your output videos, purchase the Freemke Remove Branding pack.
Conclusion
After conducting this article, it is clear that Freemake is not a virus but a safe and legitimate video conversion software. It is reputed and used by millions of users all over the world. Though some concerns about Freemake can arise, you must be attentive during installation because you can decline these unwanted software installations while installing the software. 
However, Freemake is reviewed and tested by reputed antivirus software companies. The software companies noticed that it is free from viruses and malware. Moreover, the software received awards and positive reviews from organizations and technology websites.