Are You Sure You Want to Leave This Page Virus? How to Fix
Every time when you are using web browsers, it's redirecting you to some sites. After redirecting, the site providing or you can say it is asking, are you sure you want to leave this page? Basically, this type of notification/message arises when the website owner wants to keep you on their site longer.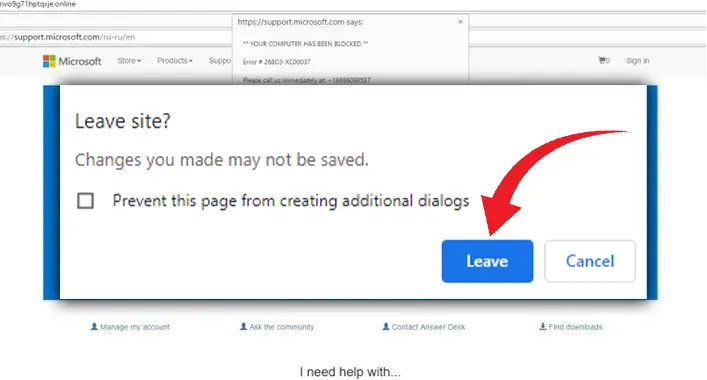 But, if you are doing nothing and your web browser redirects you by itself, then there is something to concern about. Malicious things and Java scripts are the main reasons here. If you are facing this, then this article can assist you to fix this problem.
In today's article, we have provided remedies for you to solve this issue. Without wasting any time, let's continue the journey.
Why This Message "Are You Sure You Want to Leave This Page" Is Showing on My Browser?
Basically, the browser asks to ensure the users when they exit any website whether they want to leave the site or not. Sometimes, users disclose the site by mistake. To prevent this, browsers provide a pop-up which is actually a JavaScript feature of web browsers.
Another case is, hackers, use this feature and make the user fool and spread viruses. If you are facing the automatic redirecting into a website with the pop-up then your device has adware. Adware is a malicious program.
If you download something from a pirated website, often the adware is downloaded with them. If you install it somehow then it will continuously redirect you to some website and ask for permission whether you want to leave the site or not. And when you will give permission to leave the site, it will lead you to install malicious software.
This issue is scary as well as annoying too. But there is nothing to worry about, we have provided some easy steps to solve it.
How to Get Rid of the "Are You Sure You Want to Leave This Page" Issue
Here we have provided solutions to remove this "Are You Sure You Want to Leave This Page" issue. Do follow the solutions below.
Remove Adware
For removing adware, follow the steps provided below.
Step 1: Uninstall old and new unnecessary software. Click on the Windows key and type add or remove programs. Click on Add or remove programs to open. Now, thoroughly search for unnecessary software and look for which unnecessary software's are installed in recent times. Find and uninstall them.
Step 2: Use third-party software to remove malicious adware. You can also use antivirus but sometimes it isn't able to remove them. There is so amazing software that can do a deep clean search and will assist you to remove the malware very easily.
Reset Web Browsers
The most 3 common web browsers are Mozilla Firefox, Google Chrome, and Microsoft Edge. Here we have mentioned the reset steps for each browser. Follow them and solve your one.
Mozilla Firefox: Navigate into Firefox and click on the Menu option (at top of the right portion).  Now, navigate into the Help option and click on More troubleshooting information. Click the Refresh Firefox and reset Firefox browser settings.
Google Chrome: Navigate into Chrome and click on Three Dot. Now, follow this sequence Reset and clean up > Restore settings to their original defaults > Reset settings. After that, your browser will reset.
Microsoft Edge: Open the browser, after that, Reset settings > Restore settings to their default values > Reset.
You can also disable JavaScript from your browser but we suggest you do not do that. Java Script is a core thing of a browser.
JavaScript provides so many things to a browser user and without it, you won't be able to access some famous websites.
Frequently Asked Questions
How do I get rid of Are you sure you want to leave this page on my Mac?
If you are facing this on your Mac then you need to open Force Quit Window. To open the force quit window, press command + option + Esc and select Safari. Now, click on Force Quick button. It'll be solved.
How do I get Chrome to stop asking me to leave a website?
For this, you need to turn off or disable the extensions of the chrome browser. To disable the extensions,
Navigate into the Google Chrome browser and click on the three-dot menu. You'll find it in the top right corner of your screen.
Next, click on More tools and then click on Extensions.
Now, you will find the extensions, turn off/disable them all.
Conclusion
Having a malicious activity or malware software on your computer is a matter of concern. You have to become more sincere while downloading and installing files. Avoid pirated websites as much as you can. If there is any need to use them then watch out for what you are downloading and installing.
If you are enough conscious of these malicious things then it will be easy to keep yourself in a safe place. Otherwise, virtual life will turn into hell. So, choose wisely, and think twice before your move. Gracias!