How to Use Process Explorer to Find Malware?
Created by Mark Russinovich and acquired by Microsoft, Process Explorer is a part of the Sysinternals Suite. This tool is very popular among IT professionals around the world. Though it works like Windows Task Manager, it has more features compared to the Task Manager.
In this article, we'll be discussing how to use Process Explorer to find malware or malicious codes on a device.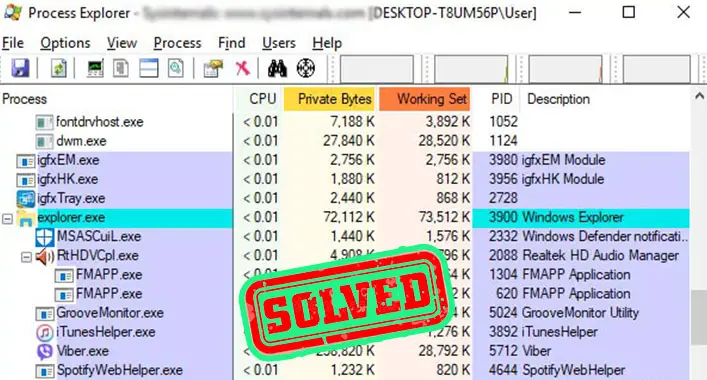 How Does Process Explorer Detect Malware?
Process Explorer does not detect malware directly; it uses VirusTotal for analyzing a file. As you know. Process Explorer has some tabs that show the Private Bytes, Working Set, PID, Description, Company Name, and VirusTotal status of a process on your device. The Virus Total tab shows how many anti-malware or security tools have identified that process as malware. That's how Process Explorer shows if there are any malicious programs.
How Do You Use Process Explorer to Find Malware?
Identifying a malicious process through Process Explorer is not a hard nut to crack. You can easily identify whether a process is malicious or not by reviewing VirusTotal status. Here is how to know if a process is a malware –
Step 1: Open the Process Explorer with Administrative access on your device. If you have not downloaded Process Explorer yet, go to this link to direct download and install it on your device.

Step 2: Upon opening Process Explore, you can see all the Processes of your device. Go to (click on) the VirusTotal tab of the Process Explorer window and click on a suspicious process (red-marked by the VirusTotal tab).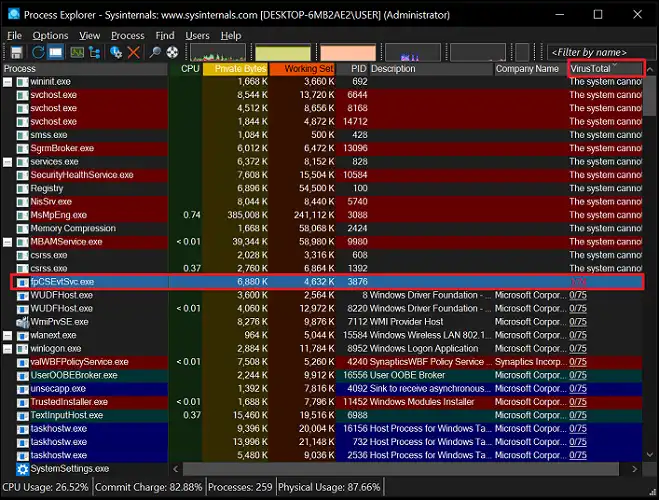 Step 3: Thereafter, select and left-click on the suspicious process to see the context menu. Afterward, select Check VirusTotal to analyze the process. VirusTotal will directly show you the report of that process.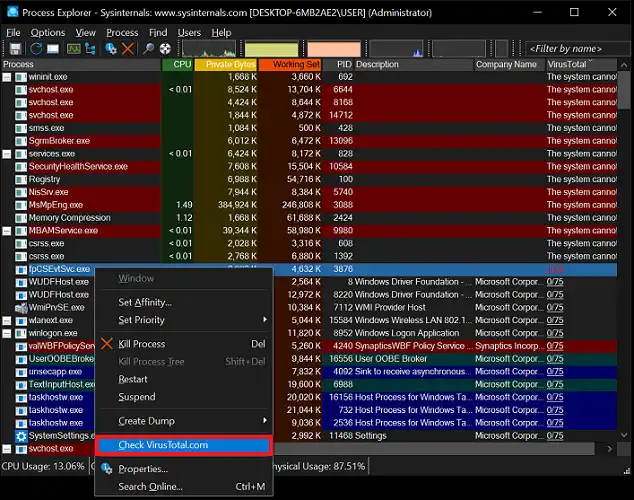 If a process is flagged as malicious by less than 5 anti-malware tools, it is considered to be a false positive (not malicious). When a process is flagged as malicious by more than 20-30 antivirus tools, it is considered to be malicious for the device. 
How Do You Find a Hidden Virus?
As you know, hidden viruses are the stubbornest malicious codes that intend to stay for a long time on the device. It is pretty much harder to detect them by using textbook anti-malware or antivirus tools. But, you can find and detect a hidden virus by using an advanced-leveled anti-malware tool. A complete security scan can detect and remove hidden malware or malicious codes from your device. Even if they are hidden on the core system files. Anti-malware tools like Malwarebytes, McAfee, Kaspersky, HitmanPro provide a deep security scan of the device system.
Frequently Asked Questions (FAQs)
What Tool Can Be Used to Locate Persistent Malware on the System?
There are various excellent tools that can be used to locate the most persistent malicious codes of your system. Process Explorer, Wireshark, x64dbg, Radare2/Cutter, Fiddler are some best options among them.
Does Windows Defender Scan for Malware?
Yes, Windows Defender scan for malware and detects the malicious codes from a Windows-operated device. It can scan for malicious codes more effectively while you are using a paid version of the Windows operating system.
How Long Does It Take to Analyze Malware?
It may vary on which tools you are using to analyze malicious codes. While using the Microsoft Process Explorer, it will take 1-2 minutes to analyze malicious codes or malware.
Final Words
Hope this discussion has helped to learn how to use Process Explorer to find malware on your device. Still, you need to use a third-party anti-malware tool to remove the detected malicious processes from your device. That's all for today, have a great day.